Earlier this week I was fortunate to go with five others for dinner downstairs at Chez Panisse. The evening was warm, the company was agreeable, the place was welcoming, and the service was very attentive. More important, was the delicious Moroccan inspired menu from David Tanis, who oversees the kitchens half the year.
The starter was a plate of seared tuna with a perfectly cooked egg some greens and roasted peppers with peppery spices—very beautiful to see and to eat. This was followed by a soup of fresh shell beans with a garnish of whole cranberry beans, and short noodles, and harira oil, It was so, so, good! The main course plate had very smoky tasting lamb in three ways, a rib chop, some sliced loin, and merguez sausage, accompanied by a spicy sweet corn mixture, and garnished with onion rings. The lamb sauce was perfect with the contrasts in tastes and textures. They then brought us a dish of fresh fruit, figs with two kinds of pears. Dessert was a light and beautiful a feuillete of apple and quince with ras al hamout ice cream. The theme of Moroccan spices through was enthralling. And, the suggested wines to accompany each course were really interesting.
Honestly, every culinary student, everyone who calls him or herself a "foodie", and every visitor to San Francisco should make the pilgrimage to Berkeley for an absolutely wonderful evening—it's the way dining should be! Thank you everyone at Chez Panisse for so many years of dedication to food sourced from the grower, served in season, and prepared and served with respect and love!
Now, that we are talking about David Tanis, I hope you bought his book last year called, A PLATTER OF FIGS and Other Recipe by David Tanis (Artisan 2008). David has written a very thoughtful and precise book of his food, which is mostly Mediterranean. What I really like is that he has categorized his recipes into menus for each season. It is a wonderful read with delicious sounding and tasting recipes. It is especially important today because so many cookbook authors and magazine recipe writers are making the list of ingredients and the instructions shorter and shorter. It is so good to know that if you follow what David suggests, you will have great success.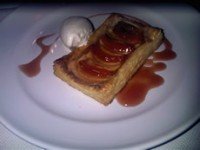 What I did is make his Chicken Tagine with Pumpkin and Chickpeas last night for dinner for eight guests in my kitchen. I served a simple salad to start and a dessert from school. But, what I have for you here is a menu for autumn of do-ahead comfort food that is healthful. What I have for you is my interpretation of David's Chicken Tangine recipe. And, if you feel ambitious you can make Donna Hay's Maple Apple Cakes for dessert. Happy cooking!