First of all, please, please don't waste time finding out what everyone can or can't eat. When planning menus nowadays, you have to always consider peoples various eating habits; in other words, there should be choices for guests that don't eat meat or who don't want to eat too much bread. It is important to simply offer a variety of healthful foods that are hopefully grown locally.
For Memorial Day weekend, I hosted some friends at my home in Litchfield, Connecticut. Litchfield is a beautiful town in the northwest corner of Connecticut in what used to be a farming community. I spent the first night looking for ideas in my friend, Chuck Williams, THE WILLIAMS-SONOMA COOKBOOK, which was published in 1985. Then, I shopped at the local Stop & Shop the next morning. Here is a shopping list that I recommend you purchase before your guests arrive:
Strawberries, Oranges, Lemons, Limes
Onions, Garlic, Carrots, Butternut Squash, Broccoli-Rabe (or Broccoli)
Butter Lettuce; Avocados, Cherry Tomatoes, Fresh Flowers for the Kitchen
Wedges of Parmesan, Pecorino, Gruyere, and a container of Fresh Mozzarella
Packages of Smoked Salmon, Bacon, and a piece of Ham
Coffee, Tea, Milk, Heavy Cream, Butter, and Whole Milk or Greek Yogurt
Extra-Virgin Olive Oil and coarse Sea Salt
Sliced Whole-Grain Bread, Marinated Olives, Roasted Almonds
White Wine, Red Wine, Beer, and Juice
We now live in a world where there is no one person doing all the work in the kitchen preparing a meal, anyone or everyone can help. When people ask what they can do, you just say "can you cook the bacon?" or "can you cut the broccoli?" It is fun for others to help out.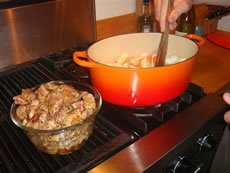 Here's the plan: for Breakfast you can see that coffee and tea are in an obvious place along with breads, butter, jam, and maybe fresh fruit and yogurt. People can help themselves whenever they want.
For Lunch you can lay out bowls of lightly toasted bread, cooked bacon, clean lettuce, halved cherry tomatoes, sliced avocados, and sliced Mozzarella cheese—the last three drizzled with olive oil, and sprinkled with sea salt. This way, people can make themselves a salad or sandwich with whatever they want. Generally, what happens is that everyone puts everything on their bread so it is important that all the components go together.
Another Lunch could be a green salad with cut up cherry tomatoes and Mozzarella followed by a Penne with Butternut Squash, Broccoli-Rabe, and Pecorino cheese. Click here for the RECIPE.
Another Lunch could be a green salad with shaved Parmesan and balsamic vinegar followed by a Frittata of Leftover Pasta, Click here for the RECIPE or a Crust-Less Quiche of Broccoli and Ham Click here for RECIPE. A refreshing dessert could be fresh strawberries topped with yogurt and drizzled with maple syrup. (The reason that I choose whole-milk yogurt is that is far more natural than low-fat or non-fat and tastes better. If you are worried about the fat in yogurt, eat less—it's better than consuming additives.)
Wherever you are, chances are there is a Farmers Market. The Litchfield Hills Farmers Market is pretty small on Memorial Day weekend because it is still too early in the growing season for the farmers to have much to offer. In fact, the market hadn't even moved outdoors yet. We bought pork shoulder from an organic grower, some fabulous eggs, a few potatoes, some zucchini, field flowers and more whole grain bread. The most interesting was meeting the woman who sells honey. What she and her husband do is set up beehives in around town in other peoples gardens because there is no one garden with enough flowers for the bees—very cool. We also bought a caramelized apple-walnut pie from the Boy Scouts.
Dinner can definitely be where everyone helps out. I recommend serving smoked salmon on brown bread with a squeeze of lemon and a grinding of pepper. If you prefer you can arrange the smoked salmon on a plate and garnish it with diced avocado and chopped onion, of course drizzled with olive oil and sprinkled with sea salt. The main course could be an adaptation of Mr. Williams Lamb Stew with Vegetables and Couscous Click here for the RECIPE. Although the recipe didn't call for it, we browned the meat and deglazed the pan with white wine. We also used pork instead of lamb. You can do the same just cooking the meat slowly until it is half cooked and adding what vegetables you have. Don't worry if you don't have all the ingredients—just cook the hard vegetables twice as long as the soft vegetables. And, be sure to taste the stew before serving. The stew will keep for a week in the refrigerator and can be reheated and served with warm potatoes tossed with olive oil and scallions.
Dessert can be a pie from the Farmers Market, or an ice cream cone from the ice cream store, or the best would be to a homemade Carrot-Walnut Cake like the one cooked for me by Tracy. (Her husband Andy is now in the process of starting Food Runners of CT—thank you both! Click here for the RECIPE. Remember, Cooking is Fun especially when you get others involved—it can make a Weekend in the Country fun for everyone!
Watch the slideshow of pictures from the Litchfield Hills Farm-Fresh Market.