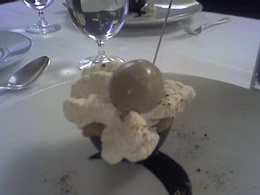 Here is the long answer: the trend in New York right now is towards small restaurants where the eating is casual, friendly, and relatively quick. The new style eating places include places for tapas, chocolate-tastings and desserts. My friend, Jim, and I checked out some of these new style eateries when we were in NYC for the James Beard Awards and had lots of fun, mostly around Spring Street. I really like a little seafood restaurant called Pearl; my friend Nina recommends a small restaurant called CAFE HENRI, and we had a terrible meal at P'ong. You can see in the photos nearby the Salted Shrimp and Oyster Roll from Pearl. Everyone there is warm and welcoming, a real neighborhood place. Although we had called ahead to ask about main courses at P'ong, when the 5 of us sat down to dinner, we realized that they really didn't cook main courses. The menu was of 5 or 6 first courses such as Tuna Tartare and Carpaccio (all uncooked), some cheeses and desserts. We actually left after our first courses and went around the corner to BARBUTO for entrees, real food like roast chicken and steak.
I have to say I have had memorable meals in the past at BABBO and at SPOTTED PIG. Nate Applebaum, the chef at A16 in San Francisco, really liked the food recently at COUNTRY and RESTO. He also likes Prune and the MODERN BAR. Lawrence Gossel, the chef of NOPA in San Francisco, liked Otto's for pizza and Blt Prime for their dessert, a bruled souffled crepe. And, a really popular place on a sunny day is Danny Meyer's SHAKE SHACK, for hamburgers and milkshakes, also pictured here. (Jim Dodge and I had a blast walking around Madison Square and Union Square on a sunny Sunday in New York. But, I can't do a write-up on restaurants in New York without heading uptown to the fancier, more expensive eateries. The top of my list for elegance and service as well as exquisite food is Per Se. I hear that L'ATELIER JOEL RUBICON is really fun.
My friend, Marlene, and I had an early dinner before the opera at Lincoln Center in the front room at JEAN-GEORGE. It was absolutely fabulous! I had Foie Gras Brulee with Grapefruit and Grapes, Shortribs Vinaigrette with Charred Fava Beans and Mint, and Chocolate Ice Cream with Salted Caramel Cream and Licorice. The service was perfect, Jean-George was greeting people, and it was really fun! The next day, my friends took me to CAFE BOULUD for Lobster Salad and a Coffee Ice Cream dessert, pictured here in a chocolate cup. The atmosphere at Cafe Boulud is casual, the service exquisite, and the food is just fine. It is worth the visit just for the warm Madeleines they bring with coffee.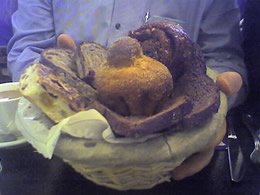 My summary is that there seems to be a trend towards small, friendly places to eat quickly. And, the well-known restaurants are still doing a really good job. So very often people from out of town worry about how much it costs to eat out in New York, but that's the way it is. The other concern is eating somewhere close to where they are staying or near the theatre or concert hall. My answer to that is "eat well and take another taxi." There are so many great eating experiences in New York, why not take full advantage of it no matter the cost or extra taxi. Having said that, I have to say a really great favorite of mine (with locations on the Upper East Side, Columbus Circle, and 13th Street) is Rosa Mexicano. I will never forget the duck in mole sauce I ate there several years ago. And, I dream about the Guacamole they make at your table. The executive chef for all the restaurants is Roberto Santibanez, who was in San Francisco recently promoting his new book ROSA'S NEW MEXICAN TABLE – Friendly Recipes for Festive Meals (Workman/Artisan). Click here for the Guacamole recipe that he taught yesterday at Sur La Table in Maiden Lane. A great recipe from a great chef!
Other News from Tante Marie
I am proud to be last week's recipient ofThe Jefferson Award, which is given each week to a person in San Francisco who helps their community. You can see the news segment on me and Food Runners by going to www.CBS5.com and clicking on Jefferson Awards and scrolling to Mary Risley. Thank you, Kate Kelly and everyone at CBS!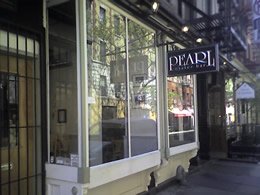 The Food Network is looking for people with personality to be filmed learning the in's and out's of Thanksgiving Turkey Dinner. If this is you, contact Ann at Concentric Entertainment at concentriccasting@yahoo.com.
Have fun cooking!