My favorite restaurants are Slanted Door; Boulevard; COCO500, A16; and Rubicon. We are in an era now where new, terrific, fun restaurants are opening every day in San Francisco. It's almost too much to keep up with — and I certainly haven't been to them all — but here are my favorites!
Whether I am asked about my favorite Chinese or Thai restaurant, I always answer Slanted Door, even though it is Vietnamese — but it's the best! It is always bustling, has a great view, and the food comes steaming. Whether you order the standard Spring Rolls with Peanut Sauce; the Shaking Beef; or the Vegetarian Vietnamese Crepe, it is always good.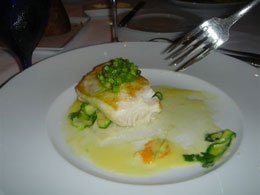 COCO500 is also lively and fun! The flatbread with Zucchini Blossoms and Truffle Oil is a must. You can be assured if there are sardines in season, there will be a delicious dish of them. I love the Ravioli with Fava Bean, Sweet Pea, and Ricotta with Mint and Chive Puree and Northern Halibut a la Plancha with Red Endive and Kumquat Salsa.
Whenever I go to A16, they always bring me the Barata, (an absolutely delicious stuffed mozzarella) with Olive Oil and Coarse Salt to start. Then, I always order something with cured or braised pork—such as Porchetta Stuffed with Homemade Sausage; Cavatelli with Pancetta and Cacciocavello Cheese; and you can't go wrong with the Bianco a la Napolitana. A16 is the perfect place to taste and hear about Italian wines and to share in the good times being had by all!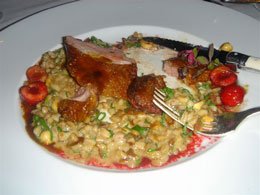 For a quieter, more thoughtful evening where you can linger over a fine bottle of wine, I recommend RUBICON. The food is really, really delicious and well thought out and the desserts are superb! Crispy Spiced Quail with Tart Onion Lemon Confit and Basil; Grilled John Dory with Rhubarb, English Peas and Lavander; and Almond-Crusted Lamb with Cauliflower, Medjool Dates, and Whole Grain Mustard are a few of the current selections. Be sure to save room for desserts, they are fantastic!
The real focus of this newsletter is BOULEVARD! Over the years, Boulevard has served thousands and thousands of delicious meals with expert service in a splendid setting. To begin with, as you walk in through the revolving door, you will see a bar part-way down one side of the restaurant, followed by a long open kitchen with lots of busy cooks. Windows go down the other side. There are booths and tables of people having a great time. The wait staff looks handsome and efficient. And, those sitting at the tables at the far end have a great view of the bay.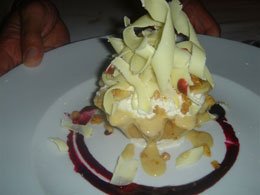 Last week I was the guest of Bitsy and Frank Duperier from San Antonio, great eating friends! My first course of Aged Goats Cheese with Asparagus, Bacon, and Baby Arugula was perfect before my Roasted Duck Breast on Toasted Ferro(Ferro is an ancient kind of wheat that is popular now) with Cherries. Bitsy's Dungeness Crabcakes with two other presentations of Dungeness Crab looked fabulous. But, the best was Frank's Roasted Squab with Foie Gras and Chipolinni Onions Stuffed with Braised Short Ribs. The northern Halibut with Hearts of Palm and Zucchini Noodles and Beurre Blanc was really good. You can see from the photos, that the desserts are very special: Blackberry Galette with Ginger Ice Cream; Chocolate Malted with what I call Chocolate Beret; and the famous White Chocolate- Banana Cream Pie. Thank you Frank and Bitsy for such a spendid meal at BOULEVARD. Thanks too to Nancy Oakes, Pamela, and all the cooks and servers at Boulevard. You do a great job!
To get a real sense of the restaurant, be sure to own a copy of the BOULEVARD, The Cookbook, by Nancy Oakes and Pamela Mazzola. It's a beautiful book with fascinating recipes.