If you live in San Francisco and are travelling down Oak Street, be sure to stop at DeLessio, which is part of Faletti's market on Broderick at Oak. They have a fabulous array of breakfast breads; and my favorite is what they call Brazilian French Toast. It can be eaten cold in your hands with a coffee drink from Peet's, which is also in the same building.
If you have friends from out of town, of course, you will be taking them to the San Francisco Ferry Building Farmers Market on Saturday morning. For a light lunch, be sure to get one of the smoked fish open sandwiches at Cap'n Mikes, all the way at the end of the pier. For one of the best things you've ever eaten, line up at Roli Roti (on the south end of the market) for their Porchetta Sandwich—it's really worth the wait, not to mention watching Thomas delight in making every sandwich. After that, pick up a package of La Cocina nearby.
Sometimes, on weekdays, I phone Swans (on Polk Street) to order a mixed Seafood Salad to take home. And, sometimes, I take home the Black Bean Stew from Nopalito, on Broderick between Fell and Oak. You can call to order the food 15 to 20 minutes ahead 415.437.0303. And I highly recommend the Pork Belly Quesadilla (Quesadilla Roja con Chicharron) with the Roasted Corn (Esquite Tostato con Crème et Queso)… It is so, so good! I recommend making my Grilled Nectarine Salad with Bacon Vinaigrette before serving these and following it with a parfait of blueberries with maple yogurt and a molasses cookie. But for a real treat, you could serve instead a selection of miniature cupcakes from DeLessio next door.
The bottom line is that I don't know if we will ever return to the era where Julia Child was trying to convince us to spend a whole day making beef bourguignonne or blanquette de veau; but I hope that more and more people will cook for pleasure (and learn how at Tante Marie's Cooking School). And, what good cooks often do is shop earlier in the week (hopefully at a farmers market), cook and serve one evening, and plan for using leftovers to make something totally different later in the week.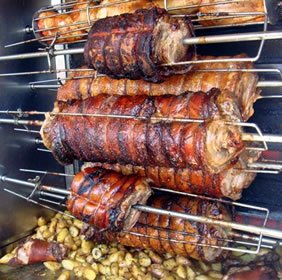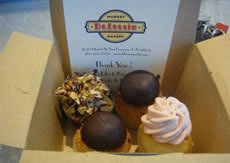 But, if life gets too busy to plan and cook, here for you are some ideas for delicious dishes to pick up and a wonderful seasonal salad that you can make with ingredients picked up at your local grocery (mine is Mollie Stone's) that won't take more than a few minutes and to prepare. Remember cooking is fun! And, sharing a meal with others can be fun too even if you buy some of the dishes!