First of all, London seems to be very prosperous. Although it may not be as much the banker of the world as it has been in years past, it definitely is where the wealthy business people of the world want to live, visit, and shop. The stores were overflowing with holiday spenders; the mood was definitely upbeat; and the number of foreign accents was amazing.
My friend, Martha, and I stayed in the Hammersmith/Chiswick area for a few days before going on to meet friends at Le Manoir aux Quatr Saisons in Oxford. Our first meal at the local gastropub called the Anglesea Arms was so much fun and delicious. Everyone was friendly, and the food was amazing; notably the Grilled Mackerel with homemade Piccalilli; Venison with Red Cabbage and Pumpkin Puree, and the Dulche de Leche Semifreddo (pictured here). The next day, we just happened by a local market of food stalls selling an amazing array of international take out food for the mid-day meal the longest lines were for the vegetarian wraps and the roast pork sandwiches.
My all time favorite restaurant in London is St. John Restaurant (owned by Fergus Henderson of Nose to Tail fame) in the Smithfield meat market district. Walking into it seems like walking into an old-fashioned butcher store, with its wooden floors and paper covered tables. The eaters are a heart bunch who love what the English call offal and we call variety meats you know liver, spleen, and roasted marrow bones. As soon as we sat down, I spotted the most splendid meat pie at the next table with a marrow bone used to hold up the pastry in the middle. When I asked the diners at the other table, if I could take a photo of their dish the said "of course" and later sent my table a bowl of it for us to taste. It was a pheasant and pigs trotter pie, which I have changed to pheasant (or other bird) and ham hock pie for this months Recipe of the Month. We feasted on many things including Roast Bone Marrow & Parsley Salad; Ox Tongue & Chips; and Mallard & Beetroot all delicious!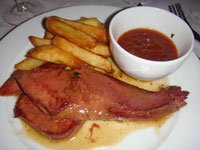 Martha and I had some splendid meals in homes; namely a wonderful pork stew in Chiswick, a delicious tripe, garbanzo, and chorizo ragout in Greenwich, and a fabulous fish pie in a hamlet outside Oxford. Don't let anyone you know malign British home cooking again! We also spent a Saturday strolling the food stalls and shops in Portobello which was fun; but more important was visiting a favorite of mine Books for Cooks, which has great cookbooks, a cooking school, and a small cafe (near Portobello road). Our experience at Le Manoir aux Quatr Saisons was really nice. If you ever want to experience a night or two in a country manoir house with exquisite service, do go. It is worth it for the private gardens off the rooms; drinking Madeira in the candlelit bathtub; and having very good (slightly out-of-date) French food in the dining room. I just loved the attention from all the staff; escorting us from the lounge where we had before dinner drinks to the dining room with all the other slightly self-conscious guests. I really wish I could recommend the Raymond Blanc Cookery School in Le Manoir but it was quite disappointing. You may ask what I was doing at an expensive cooking school in Oxford? And, the answer is to see what it was like and to be with my great friends from Texas.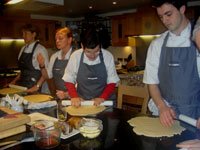 So, what about an English Christmas menu for your Christmas dinner this year? First of all, I recommend starting with appetizers of smoked salmon on brown bread with a squeeze of lemon; followed by my Leek and Potato Soup with Stilton to start; followed by St. John's Pheasant Pie with Hashed Brussel Sprouts and Butternut Squash; followed by Tante Marie's Christmas Pudding; or Jaime Oliver's Cranberry Tart. All of these recipes can be totally made ahead and reheated. Here, for you are new recipes for Christmas dinner. Happy Holidays to you!