What I recommend is to 1) plan ahead 2) shop ahead 3) get everyone to help and 4) enjoy sharing a meal with people you care about. Although everyone has their own specific idea of what vegetables must be included; there is no denying that the traditional Thanksgiving dinner must include roast turkey with stuffing, gravy, and cranberry sauce with usually two kinds of potato dishes; namely mashed potatoes and sweet potatoes and some green vegetables. And, I firmly believe there should be two or three kinds of pies; namely, pumpkin, apple, pecan, or mincement—not chocolate. As for wine, opinions vary. I say serve whatever you like; it doesn't matter whether its red, white, or pink.
If you can find a source for a heritage turkey, by all means order one. Otherwise, a good quality turkey like Willy Bird is fine. And, frozen is fine too. Just let it thaw in the fridge for 3 or 4 days. The current fashion is to brine it which will give it flavor and juiciness. What I like to do is slip some pats of butter under the skin over the breast which also adds moisture. You can vary the stuffing any way you want; for instance leaving out the chestnuts or even the sausage. It's best to stuff the turkey just before putting in the oven. (You can put the neck and gizzard (but not the liver) in a saucepan with an onion, a carrot, and a stalk of celery and 1 quart chicken stock or water to simmer while the turkey is roasting.) Then, simply sprinkle the turkey with salt and pepper, and put it in a roasting pan in the oven. (I wouldn't bother with either trussing it or basting it.) A 25-lb. turkey will take about 4 hours to cook; so just go out for a walk. It should come out of the oven at least a half hour before carving. A great hint for tranferring the turkey from the roasting pan to a serving platter is from my friend, Chuck Williams. What he does is uses oven mitts. They can then be put in the wash.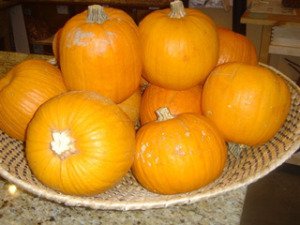 Most vegetable dishes can be made ahead if you are the only cook. But, I recommend getting those who want to, especially the children, to help mash the potatoes and make the first course (or courses) and the side dishes. And, I have no problem with store-bought pies, esp. when they come from somewhere like Noe Valley Bakery. I think people like being involved even it it's just bringing the wine or the pies.
Here is my menu a few years ago:
Last year I showed an alternative vegetable dish called Vegetable Charlotte which combines many vegetables with mashed potatoes—great with the turkey gravy.
Here is my menu for this year:
(a selection of seasonal pies)
This is such a great time of year for colorful and delicious fruits and vegetables, that I have bought a variety of winter squashes to decorate my kitchen as well as pomegranates, pears, and apples. I happen to think the best thing about Thanksgiving is being able to eat great turkey sandwiches the next day. So, here for you is my Recipe of the Month for Pumpkin Soup with Prosciutto and Croutons. This would be a perfect starter before turkey sandwiches made on levain bread with cranberry sauce (if desired) or lettuce and mayonnaise and followed by Saute of Autumn Fruits with Poundcake. (You can find all the recipes mentioned here in Tante Marie's Cooking School Recipe Collection.) Note: These photos are of the autumn harvest at the SF Ferry Plaza Farmers Market, Real Foods & Whole Foods and a few photos of a dinner party I had the other night where I served Stuffed Autumn Vegetables, which would also be a fun way to start Thanksgiving dinner. Whatever you serve, have a wonderful Thanksgiving weekend!