Here is my gift to you for this Holiday season—a green and red easy-to-assemble hors d óeurve!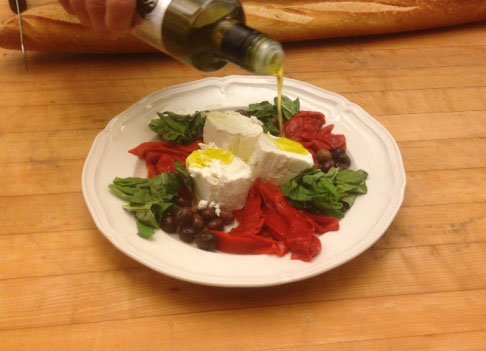 The best is to keep on hand a log of Laura Chenel goats cheese, a bottle of roasted pimenton (in olive oil–not vinegar), a bottle of picholine olives, a bunch of basil (or mint).  You will also need a fresh baguette.
To assemble cut the log of cheese into three pieces and place on a serving plate.  Cut the red peppers into stripes and put in three piles around the cheese; arrange olives and shredded basil between the piles of red pepper.  Pour over plenty of good quality olive oil and grind some black pepper over.  Serve with a basket of sliced French bread.
The idea is that the eater soaks the bread in the olive oil, and covers it with cheese, basil and olives. Do put out a little bowl for the olive pits.  Enjoy!
The Best of Tante Marie!
Although Tante Marie's Cooking School in North Beach is closed, I am now teaching when asked in my home in lower Pacific Heights—where the proceeds go to Food Runners.  This winter I will be conducting six participation classes using old favourites from my 40-year career of teaching cooking.  This is a perfect opportunity for you to take the class or classes you have always wanted and/or to use that gift certificate you received years ago. 
The cost for the Series of six evening classes is $600, which is already discounted in case you miss a class or two.  The cost for individual classes is $125.   For gift certificates and individual classes, please call me at 415.885.1654.  There will be no more than 10 participants each evening.
Each night the group will prepare a dinner complete with appetizers, first course, main course, and dessert.  The topics, in order, are menues based on Eggs/Cheese; Pasta/Salads; Fish/Seafood; Chicken/Duck;  Pork/Lamb; and Vegetarian.  You are welcome to bring wine to share.  The Series starts  Wed,  Jan. 25th for six weeks. Sign up now!   Cooking with Tante Marie is fun!