There are young people growing vegetables in vacant lots and giving the excess away on free food stands; there are young people teaching children where food comes from and how to cook it; there are young people serving food in trucks that move from place to place or in underground restaurants also with different locations; and there are young people starting their own businesses of producing food and selling them at stalls at local farmers markets. These new stalls and trucks, which can be in essence "incubation" businesses, are a fun way to eat and/or feed your family.
Here for you are descriptions and photos of a few in San Francisco:
OFF THE GRID — is a fantastic concept! There are six locations throughout San Francisco each week. Any Friday evening you can see the crowds headed towards Ft. Mason where there is a circle of trucks. In the middle of the circle is a band, a bar, and chairs for sitting. The eaters line up at trucks (or stalls) and enjoy their food gathered together in chairs or standing around. It's a great atmosphere even in the fog.
FORAGE SF is also an experience! At their monthly Underground Market, there could be 20 or 25 vendors at stalls in a vacant building complete with music and a bar. You can eat anything from Brittany crepes to savory cupcakes to fresh fruit galettes. People are hanging out having a beer or wandering around eating. Check out the schedule and location for both day and night events. I am very proud of a recent graduate of Tante Marie's Pastry Course, C. J. Anderson of Wildwood Pastry, who is shown here at his stall where he is selling fruit galettes with caramel sauce.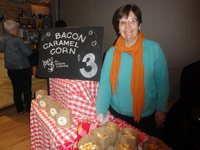 NEW TASTE MARKETPLACE is another great idea – it's in St. Gregory's Church on Potrero Hill once a month… Vendors are BBQ'ing outdoors, making Chinese dumplings indoors, and serving tastes of homemade jams and jellies along with selling very imaginative savory and sweet snacks. I especially loved the s'mores made to look like a hamburger with chips.
Even with all the bad news about the economy, people still have to eat; and are likely to treat themselves to affordable and tasty foods. Not only that, but people who want to supplement their income or find another source of income can always make street food and sell it at a stall in one of these imaginative venues. And, the fun of eating a Korean BBQ taco, or fried potatoes with Romesco, or a s'more that looks like a hamburger is that it wouldn't be easy to make at home. It is for this reason that my recipes this month aren't from these stalls or trucks but rather a celebration of spring Tante Marie style.
So, here for you is a simple menu of asparagus, fish with smashed potatoes, and lemon pudding for you to serve to family or friends this month. Most of it can be done ahead and doesn't take too long. I served this menu in a luncheon this week in honor of the publication of my friend Nina Simond's cookbook called A SPOONFUL OF GINGER (Random House.) It was light and delicious. You can make all of it ahead but it would be best to cook the fish at the last minute. Have fun cooking!