First of all, I flew to London and stayed with friends in the west. And, here are my favorite places to eat: lunch at LA FROMAGERIE, near Marylebone High Street, where you eat at wooden tables; or at HAKKASAN for elegant Chinese food; lunch or dinner at THE RIVER CAFE in Hammersmith serves Italian food of the highest integrity; St. John in the Smithfield Market area is fantastic for dinner if you love "nose to tail eating" served in simple surroundings; and THE WOLSELEY, next to the RITZ, is a great place to see and be seen for a fine meal most anytime, especially after the theatre.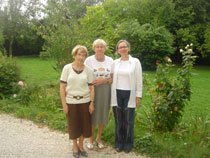 It's very exciting and romantic to take the Eurostar to Paris, and then another train to Troyes. Troyes is an former industrial small city about 1-1/2 hours from Paris, where extensive renovation of the old buildings has been going on in order to attract visitors. My friend Mizou has lived there most of her life, near her parents who are charming. It's always a challenge to me visiting the Holvecks because it's hard work speaking only French with them; however, it is so wonderful to be with a family who really cook from the land.
On my first visit to Mizou's family over 20 years ago, they put me in rubber boots and took me hunting for girolles in the nearby forests. Girolles are a kind of wild mushroom to be found after the first rains in the autumn. In their garden, they harvest red currants in the summer, as well as apples, hazelnuts, and peches de vignes in the fall. Peches de vignes are little peaches that are planted in the vineyards. A glimpse down the basement stairs showed me masses of apples laid out and waiting to be cooked.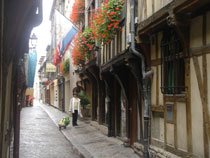 Our Sunday lunch with their friend Dominique was a first course of avocado salad; followed by a baked chicken with onions, tomatoes, and boiled potatoes; followed by a warm apple tart. Overall, I saw a concerted effort in the country cooking to remove any fat from the dishes. Here for you is this simple but delicious Apple Tart from Madame Holveck.
Paris just sparkles! The city is so clean and so gilded and so French! My favorite thing to do is walk and walk and watch the people; what are they wearing? What are they eating? Generally, the women in Paris don't look as chic as in years past, and more and more people are eating sandwiches and panini in the street as they rush from one appointment to another. Gone are the days of the two-hour lunch. In Paris, you can count on good food for lunch or dinner at the RESTAURANT PALAIS ROYALE if you haven't made reservations elsewhere. For a typical bistro dinner in the part of Paris called Belleville , eat at LE BARATIN run by a husband and wife; and I really recommend L'ATELIER JOEL REBUCHON, in St. Germaine, where they take no reservations. If you have to wait, it's worth it; the food is so well thought out and well executed. My friend, Betty Zlatchin of San Francisco catering fame and I practically walked in a got seats and loved it. Here's to eating with great friends at home or abroad!