As a cooking teacher and cookbook author, I am forever being asked how I come up with new recipes. The answer is through food blogs on the internet, food magazines, cookbooks, food shows on television, and eating in restaurants. It is up to me to create a slate of recipes that people will love; this is one of the best parts of my job! Here for you are some of my sources: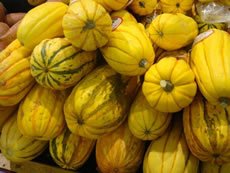 Food Blogs
Today, food blogs are abundant—some fantastic and others— not so much. I welcome you to visit my blog, Mmm…that's Good! I use it as a place to write about new restaurants, recipes, food news, and my classes. Some of my regular blog stops are:
Food Magazines
I read food magazines like there is no tomorrow! They are great sources of what's hot in the food world. I subscribe to BON APPETT, GOURMET, FOOD & WINE, FINE COOKING, COOK'S ILLUSTRATED, and SAVEUR. It takes me all month to get through them. Sometimes, I teach the recipes just as it is written (giving credit to the source, of course.). Other times I'll play with the recipes in my home kitchen until I get the version I can call my own. The same goes for cookbooks. I try to keep my cookbook collection from getting too out of control, but I definitely have my favorites that I use as reference for my own creations.
Television
Television is a more modern source of recipe inspiration. When the Food Network was more chef-centric (and less cleavage-centric), I was constantly finding great recipe ideas. Chefs like Bobby Flay, Tyler Florence, Jacques Pepin, and Jamie Oliver still cook fantastic food on TV. Watch them anytime, and you will surely be motivated to create your own similar dishes at home.
Restaurants
The real innovators in the food world are the chefs. It is for this reason that I need to stay on top of what chef's are cooking and what diners are eating. I try to eat out often, especially when I travel. I look for trends as well as old standards that are executed to perfection. These days, comfort food is still big (think curry dusted fried chicken or slow-roasted beef short ribs); and, rich cheeses (burrata anyone?) and salumi are everywhere. Some of my current favorites now are PIZZERIA DELFINA, SPQR, BURMA SUPERSTAR, and BLUE BARN GOURMET on Chestnut St.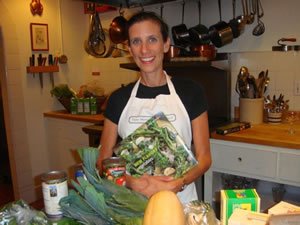 If all this cooking research is too daunting for you, let me do it for you. You can sign up for my classes on www.tantemarie.com; you can buy my latest cookbook, New Flavors For Vegetables (look for New Flavors For Pasta next fall), and you can visit my blog, Mmm…that's good!
Happy Cooking!
Jodi