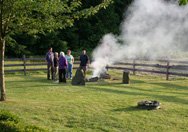 And, secondly, it's one of the most beautiful places I have been to in the world. What I do every five years is provide a house for anyone who wants to come for any or part of a week. And, my friends that come usually take turns doing the cooking.
Salt Spring Island, an island of about 10,000 residents, is located between Vancouver and Vancouver Island. Some of my friends spent a couple of nights in Vancouver and took ferries over; some took a ferry from Seattle; and a few took float planes. Others spent time on Vancouver Island on the way home. Altogether 26 people came, from as far away as Massachusetts, New York, St. Louis, Dallas, and, of course, Sonoma.
The views of the mountainous islands as the ferry navigates the channels are just spectacular—from time to time you can see the snow covered mountains of the British Columbia mainland or the Olympic Peninsula in Washington state. The first thing you notice as you drive off the ferry are kids hitchhiking—a throwback to another era. It's about a 25 minute ride on windy roads to Madrona Valley Farm – their new farm is FOXGLOVE FARM, (250) 537-1989 – where we were welcomed by Michael and his wife, Jeanne Marie. Each day that week, Michael would ask us what we wanted from the garden, and he would pick it early in the morning. I have to say, there is nothing like lettuces, spinach, and strawberries picked the same day. I never knew green onions could taste so good. Salt Spring Island has a long growing season, mostly because of a climate somewhat similar to the Mediterranean.
Each morning different groups would go off and explore the island. We visited farms that produced cows, goats, and sheeps cheeses. The most impressive was the bakery of Heather Campbell. She bakes the best wholegrain and fruit breads in a wood-burning oven near her hilltop home. She has such a peaceful, wonderful way about her, and you would too if you chose the hours and days and months you chose to bake and if you could look out at her magnificent views of the islands in almost all directions.
Each evening we had the most splendid meals of such things as locally grown lamb cooked over a hardwood fire; freshly caught Dungeness crab, Titi's Slow-Roasted Pork, with wonderful fresh salads, cheeses, and wholegrain breads; not to mention Elmer's fabulous fresh fruit tart. The best for me was the Saturday morning Farmers Market. Not only could you buy Michael's vegetables, and Heather's breads, but cooked foods and arts and crafts—quite a community gathering. I believe that Salt Spring Island would be an absolutely great place to move when you want to live a simpler life in a civilized country where the residents are kind, respectful, and speak well.
A highlight of the week was taking a ferry and taxi to farm on Vancouver Island, called Fairburn Farm. To my immense surprise, the family that has owned the farm for many years is starting to raise a herd of Buffalo. Did you know that it was Marco Polo who first brought the Water Buffalo to Italy from China?. Below Naples, near Agropole, is the most famous area that produces Buffalo Mozzarella from Water Buffalo. The young buffalo at Fairburn Farms were so gentle and friendly, now I want my own herd. If you look carefully at the photo of me with my beautiful niece, also Mary Risley, and our great friend Peter Pilzer, you will see some of the young buffalo behind Mara, the chef. You can also see them in the article about Vancouver Island being the new food mecca in the August issue of SAVEUR MAGAZINE. The dinner Mara and her staff prepared for us was exactly what I like to eat. We started by eating pizza's from the wood-burning oven outdoors with a glass of Prosceco. Then, we proceeded to the table overlooking the sheep grazing in the sunset. Then, we had a first course of smoked sablefish with roasted beets and radish and miso pickle slaw, followed by risotto of wild spot prawns with artichokes and English peas; followed by homegrown lamb roasted in the wood-burning oven, with roasted vegetables on a steamed large, flat collard leaf. The dessert of yogurt semi-freddo with macerated strawberries was sublime. By the way, the wines from British Columbia are pretty interesting.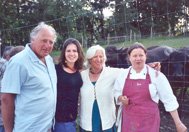 How can you enjoy Salt Spring Island? Surely, you can find interesting B&B's online. You can probably rent a house as I did and cook with the finest seasonal local ingredients as we did for a week. And, of course, you can visit the cheesemakers, the breadbakers, and the Farmers Market. You can buy Michael's recently published book about farmers around this country; it's called FIELDS OF PLENTY by Michael Ableman, a great book with delicious recipes. Something that would surely be fun is to stay as a guest with Mara at FAIRBURN FARMS on Vancouver Island (250.746.4637) and perhaps take some of her cooking classes and take a day or two to drive or bike around Salt Spring Island visiting the food artisans. Thanks very much to Michael, Mara, and all my great friends for a very special birthday week!