You went to the Patisserie for wonderful little French pastries and to the Boulangerie for breads. The Boulanger cooked with yeast, and the Patissier didn't. Nowadays, times have changed. Even in France you can now buy both pastries and breads in the same store.
But, you don't have to go to France for fabulous breads and pastries! I love everything that is made at TARTINE(Guererro at 18th St.); everything is exceptional at BOUCHON in St. Helena; and the BOULANGERIE on Pine (near Fillmore) and NOE VALLEY BAKERY on 24th Street are still really good. But, the big news is that there are small little shops specializing in pastries that are starting up in San Francisco.
The other day I drove around eating delicious pastries and candies and taking photos. Here are the three:
Miette Confiserie
MIETTE CONFISERIE is so cute. It has the feel of an old-fashioned candy store filled with all kinds of candies. You can also buy the famous Miette cupcakes and cookies. It's on Octavia near Hayes.
Petite Patisserie
PETITE PATISSERIE really is petite. Only a few people can fit in the store. But, the pastries are exquisite. It's on 18th Street between Connecticut and Missouri. Both Meg Rey and Rachael Leising of MIETTE and PETITE PATISSERIE, respectively, are teachers at TANTE MARIE'S.
Kara's Cupcakes
A runaway success is the new KARA'S CUPCAKES on Scott between Chestnut and Van Ness. Kara is a recent graduate from the Six-Month Part-Time Pastry Course, and she and her husband have been doing a great job of marketing and selling delicious cupcakes.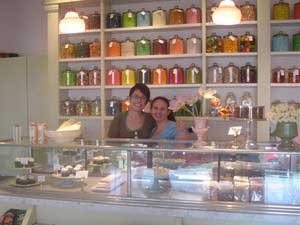 For years the French have purchased pastries to take home and serve with coffee or as dessert, and now you can too. But, what about a Recipe of the Month? Here for you is an easy and delicious little treat you can serve after dinner with coffee. The recipe comes from Thomas Keller's cookbook called BOUCHON. Bouchon is French for champagne cork. Next to Thomas' restaurant BOUCHON in Yountville is BOUCHON BAKERY where you'll find these little chocolate goodies that kind of look like champagne corks. (The important thing is to have little round silicone molds. I got mine at SUR LA TABLE.)