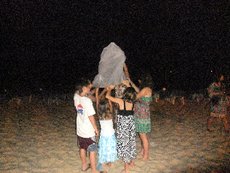 It's been an absolute joy meeting locals and discovering all the wonderful food Singapore has to offer. It's true, Singaporeans love their food….their passion borders on obsessive, where locals seek out the best local fare at all hours of the day and night. This city-states' unique food heritage dates back when the island was a trading post at the crossroads of the great East-West trade routes, attracting a stream of exotic spices, produce and people from all corners of the globe. No question, Singapore is a melting pot of races and cultures which has given way to local food that is unique and a tapestry of amazing flavors.
For the best of Singapore food, one ventures to the many indoor and outdoor food centers, otherwise known as hawker stalls. They are everywhere in Singapore…last heard, there are 120 hawker centres and 16,000 food stalls. These are the places that most locals go for their breakfast, lunch dinner and snack. The specialized food stalls vary from a Malay fish head curries, Charcoal grilled satays or Hokkien noodles, to fresh exotic fruit juice bars, to Indian roti prata stands and other mouth watering offerings. What makes this dining experience complete is how inexpensive a satisfying meal costs…anywhere from $2 to $5 US Dollars.
You find hawker stalls everywhere in Singapore ranging from simple neighborhood covered outdoor food centers with plastic tables and chairs to extensive air-conditioned food courts found in glitzy malls. Two of my favorites are the famed "Lau Pa Sat" (Old Market in Chinese) housed in a Victorian filigree cast-itron structure in Singapore's bustling financial district that offers 24-hour dining with even live music in the evening. The other end of the spectrum is the spotless "Food Opera" in the brand new ION Shopping Center on Orchard Road. It's a extensive basement food court with one vendor after another specializing in everything from signature local dishes to Japanese inspired savories and sweets.
A few of my favorite mouthwatering dishes from these marvelous Singaporean food stalls are the infamous Malay influenced Laksa, Singapore Chili Crab, Hainan Chicken Rice, Char Kway Teow – stirfried wide rice noodles with chinese sausage and shrimp and Indian inspired Fish Head Curry. Each vendor of course swears that their variation of their signature dish is the best in Singapore. So I've made it my goal during my stay here to find what locals feel are the best of the best in hawker fare. Of course this is only the tip of the iceberg when it comes to experiencing local food, but here is a sampling of the dishes that I love.