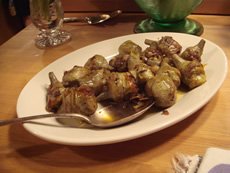 First of all, as we drove up to the front door, we could see T.T. through the picture window in the kitchen waving to us. She and her husband, Phil, have been rebuilding their kitchen as essentially the main room of the house, and they've done a really good job. Laid out on the center island were plates of sauteed mushrooms; trimmed and sauteed baby artichokes, marinated goats cheese, and sliced bread. There were also bowls of mixed nuts and T.T.'s special mixture of olives with garlic, herbs, and capers.
We sat right down and started eating and drinking and talking and laughing. After a while T.T. served us bowls of fresh tomato soup with a sprinkling of Parmesan. It was so delicious—the kind of soup that can only be made at this time of year! She had already cooked Swiss chard with garlic in olive oil and chicken with white wine and olives. All that was left to do was stir some polenta while we had fun.
The dinner of Nona's chicken with polenta and Swiss chard was perfect comfort food for a Friday evening with family or friends. For dessert she had made creamy rice pudding served in coffee cups followed by See's candies. (I would serve a simple chocolate dessert after chicken dinner.)
What makes an evening like this a success is T.T. thinking about the dinner ahead of time; and Phil seeing everyone had wine and water. Also, it was sitting around the island in the kitchen chatting while T.T. finished and served the dishes. Cooking and serving in a relaxed atmosphere is the key to everyone having a good time. Thank you, T.T. and Phil for a fabulous evening of supper in your kitchen.
By the way, T.T. and Phil are just starting a small business where they will cook, serve, and clean up in your kitchen. I am calling their new enterprise "The Cook and The Butler". You can find out more by calling T.T. at 650.922.7685 or contacting her at tmila@sbhsi.com. (By the way, she spells her name Titi.)