As America (and especially California) is experiencing such high unemployment, it is a good idea to have a marketable skill, and cooking is definitely that. After all, no matter what happens to the economy, people still need to eat; and for the most part, many people still need to eat food prepared by others. Right now, in San Francisco, most of the restaurants in the medium price range are jammed every night of the week. And, there will always be demand for good skilled cooks in restaurants.
The origin of the word "Chef" is boss in French. So in most restaurants, there is really only one chef. All the others are cooks. It is an affectation to call yourself an Executive Chef-it's a term best reserved for the head chef in a large hotel kitchen. But, the term Sous Chef is still used alot in restaurants. There may be a couple of daytime Sous Chefs and a couple of nighttime Sous Chefs. These are the ones who run the kitchen in day or night. Sous means "under" in French. Another expression used nowadays is Chef de Cuisine, which basically means, this is the person who plans the menu. And, of course, often restaurants have a Pastry Chef.
So, how does one get to be a Chef? I think the best is to learn the theory and techniques of fine cooking by attending a professional school such as Tante Marie's. The person who learns cooking on the job is at a disadvantage because, although they may be good imitators, they probably don't know the why's and wherefore's of cooking. So, after a good intensive culinary course, the hope is that the dedicated student will go on to have their first restaurant experience with a caring chef who can teach them production at the restaurant level. This may lead to the aspiring chef staying a year or more at that restaurant before going on to another to broaden the experience. This will hopefully lead to the cook becoming a sous chef and then perhaps the chef.
I am very proud of a young man called Chris Geremia who graduated from Tante Marie's Cooking School in San Francisco in 2007 and is now the chef of RADIUS on Folsom near Seventh Street. Chris is from Wallingford, Connecticut. After graduating from Trinity College, he went to work for his father in the propane business; but his love for cooking lead him to culinary school here. After graduating from Tante Marie's, he had an externship at Rubicon learning all the stations of the kitchen. Over the last four years he worked at Anchor & Hope, Spruce, and Magnolia. In February he and his chef moved to Radius; and in April he took over as Chef. The idea behind the name Radius is that all the ingredients for this restaurant are sourced within a hundred mile radius of San Francisco. I had a fabulous dinner there last night with a couple of friends. The homemade pastrami is to die for, as they say. So, is the deep-fried chicken in ham broth, and the sirloin steak with spinach and mushrooms with bone marrow and red wine reduction sauce. The lemon curd tart with chocolate praline crunch was also very special. This is a lively restaurant full of good food, good service, and good cheer! Thank you all!
Another person I am very proud of is Maritess Tse. Maritess, a native San Franciscan, had various jobs in the corporate world before coming to the professional culinary course at Tante Marie's. She knew she loved cooking but was unsure of what she wanted to do in food and cooking. Her externship after graduating was at NOPA (Divisadero at Hayes).. She really hated prep but loved "working the line". At first she made the cold first courses and plated desserts-this station is called Pantry. But, what she really loved was working "The Grill". Nopa is incredible because the grill cook is cooking the pork chops and hamburgers over the wood fire and under the chicken rotisserie. (Later on they smoke home-cured bacon in the vent over the grill.) I loved watching Maritess on the Grill. In April, she was promoted to the position of daytime Sous Chef – you go girl!
So, here you have two examples of cooks who have advanced and done well. First, they received an intensive culinary education-the foundation on which to build a career. Then, they received good experience and began working their way up the ladder of success in restaurant kitchens. What it takes is hard work and dedication- being focused and loving what they do. You can do it too – if you are young and energetic and if you love to cook. And, you can tell others about this fulfilling and worthwhile career!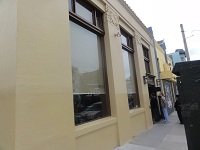 Here for you are some more recipes for entertaining outdoors on Labor Day Weekend or any other weekend in late summer and early fall. I buy my ribs at Bryan's in Laurel Village and the tomatoes, corn, and peaches at the San Francisco Ferry Plaza Farmers Market. You can serve the ribs with corn salad, sliced tomatoes, homemade potato salad, green salad, and roasted peaches with Mascarpone cream, as I did. Here for you are the recipes for the ribs and corn salad.
If you would like my Potato Salad recipe, please email me at mary@tantemarie.com. Bon Appetit from Tante Marie!.