Since it opened in February last year, JANE (www.janeonfillmore.com) has been the darling of the neighborhood. Not only can you get the best coffee and teas ever–carefully and individually prepared for you–but the array of freshly baked muffins, scones, quick breads, and cookies is outstanding. There are healthful delicious soups, salads, and panini served for lunch and early supper as well as plated desserts. With its warm atmosphere and friendly service, it is the perfect place to catch a quick meal by your self or meet up with a couple of friends. You can even have a light supper with a glass of wine before going to a movie at the Clay!
Probably, the most important word of advice from Amanda to anyone thinking about opening their own bakery is to plan to be there almost all the time. Amanda now works from 5:30 or 6 a.m. to 4 p.m. seven days a week. (Her dad stops by for coffee every weekday morning on his way to work.) She says it is really important to be hands-on in the kitchen and to maintain a sense of humor. It really looks to me like everyone enjoys working there. Amanda says what she is looking for in potential employees is that the person has a good attitude, an easy personality, and fits in with the others–most important though is a willingness to work hard. There are eighteen employees at JANE. I am also proud of a young woman called Emma who is now working for Amanda after graduating this last September from Tante Marie's Six-Month Part-Time Pastry Course. More advice from Amanda for potential pastry cooks is "follow direction, work quickly and efficiently, and clean up after yourself."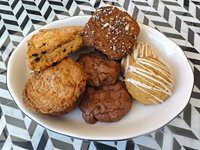 My advice to anyone thinking of opening a baking business is that you can indeed learn on the job, but I recommend getting a good education. At Tante Marie's, we believe we are giving students a foundation on which to build a career.  It would help very much to work for talented a pastry chef for a few years before starting your own bakery. We are very fortunate now in the Bay Area that it isn't hard to start a small baking business and sell baked goods at local markets before investing in a space. You could even advertising online and do home delivery. It is very satisfying to start your own small business, but always remember as Amanda says "it's a lot of hard work!" And, I would add that it really helps if it is something your really love to do.