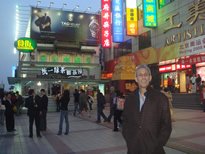 After long flights from Boston and San Francisco, we met in the Hyatt on the Bund in Shanghai—a truly spectacular hotel. For the next two weeks we wined and dined with Nina's friends in Shanghai, Beijing, Nanjing, Suzhoe, Shanghai again, and Hong Kong. We travelled by trains and boats and planes. The people were so friendly, everything was clean, and the food was delicious. It was a fantastic experience!
Beijing is all hustle and bustle; there is construction going on all over the place; and there is an upbeat energy everywhere. We stayed at the Grand Hyat Beijing right in the middle of everything where there is excellent service. The best food we ate on the whole trip was Made In China, the restaurant in the hotel. There, they have researched the local recipes from the cooks, which are good, but the best is their Peking Duck. I also really recommend a dumpling restaurant called Ding Tai Feng, the dumplings were the best I have ever eaten.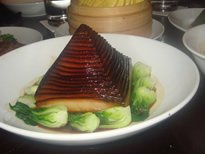 Shanghai is unbelievable—so many people and so much going on! The very first morning I discovered four women making traditional Shanghainese breakfast dishes in the restaurant of the hotel. These women used to make these dishes in the street stalls in Shanghai and are called "Aunties". The head – Auntie – is also called Mary and it was she who taught me how to make the Shanghai Pancake Recipe below. How special is it to make friends with another "Auntie" Mary in the Aroma Restaurant of the Hyatt on the Bund in Shanghai on my first visit to mainland China.
Nanjing is a not as bustling as Beijing nor as trendy as Shanghai; however, Nina had learned of a spa-resort up in the hills near the source of a hot spring, called Kayamanis. Here, there are 21 private villa's each with their own hot spring and swimming pool. Although there is a spa for treatments and a dining room for good "fusion" type cuisine, the whole look and feel of Kayamanis is to encourage everyone to relax and enjoy the peace and quiet. The mostly Malaysian staff is so thoughtful, they even arranged for Nina and I to have a little cooking class learning to make boiled dumplings. After our class we were presented with aprons, certificates, and even a disc of photos of our efforts. What fun!
Suzhoe was my favorite. We stayed in a small hotel near the canal with interior courtyards and gardens, and the rooms were filled with Chinese antiques; it is called the Ping Jiang Lodge. I loved walking along the canals or sitting and watching the people go by on bicycles or electric scooters. We were fortunate enough to have a private tour of the Suzhoe Museum designed by I. M. Pei and to be hosted at a fabulous lunch by his niece and nephew, Roberta and Gee, who run the amazing museum store called Middle Kingdom Design. They hosted us at the best restaurant called Wu Men Ren Jia , which specializes in traditional Suzhoe dishes. The food was exceptional, especially the hand-peeled tiny fresh water shrimp.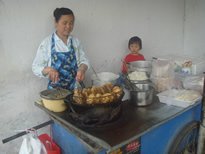 Hong Kong is always exciting. The service at the Mandarin Oriental is exceptional. Here we were the dinner guests of Nina's longtime friend T. J. who took us to a restaurant where they cook for you the fish you chose in the tank. It is called Sheung Wan Ho Choi Seufood Restaurant. Generally, the Chinese way of serving food is to serve it when it is cooked; often followed by soup, and then rice. There is invariably watermelon for dessert. In real Chinese restaurants you almost never see tables for two or four, because there would be no room for all the dishes. It is normal to have at least six dishes. The food is always freshly made and fresh tasting; however, for our tastes, we were always asking for hot chili and soy sauces. I loved China and can't wait to go back! Thank you Nina for arranging everything! Nina's weekly video blogs (including the Shanghainese breakfast pancake) can be seen on www.spicesoflife.com.