I plan to shop earlier in the week. The night before I will tear up the French bread for the stuffing and make the CRANBERRY SAUCE.
On Thanksgiving day around noon, I will make CHUCK WILLIAMS' CHESTNUT AND SAUSAGE STUFFING (without the chestnuts and the sausage), let it cool and stuff the bird in both the neck and tail ends. Then, I will place the turkey in the oven (there is no need to preheat the oven) and take the dog to the beach for an hour or so.
Around 2 p.m. is a good time to start making the enriched turkey stock for the gravy; and to put the leftover dressing in a buttered dish in the oven with the turkey. This is also the time to start making the PUMPKIN (OR BUTTERNUT SQUASH) SOUP WITH PROSCIUTTO AND CROUTONS. This year as a side dish I am going to make VEGETABLE CHARLOTTE and get my guests to help with all three recipes. Now, that the turkey has been in the oven for about 2 hours, it is time to take a look by removing the whole thing from the oven and closing the door.
If the liquid has cooked away I will add some more wine or water. If it is getting brown too fast, I will cover with foil. (There is really no need to baste the bird.) Now I will return it quickly to the oven and join my friends preparing the vegetable side dishes. When all the parts of the soup dish are ready and all the vegetables are ready, I will go ahead and have a glass of wine and proceed to follow the instructions for ROAST TURKEY WITH PAN GRAVY.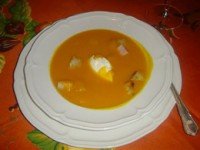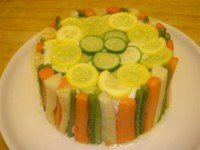 It is important to remember that the turkey needs to rest for about 30 minutes after it comes out of the oven. This is the time to reheat my Vegetable Charlotte in the same oven, and to make the turkey gravy. And, I could ask someone to whip some cream for the pumpkin pie.
What I will do is have bowls of olives and almonds near the wine pouring area. Around 4 p.m. I will serve the soup in warmed bowls and ask everyone to come to the table. About 4:30 I will carve and serve the Roast Turkey with Stuffing and Gravy with the Cranberry Sauce and Vegetable Charlotte. (served with plenty of gravy), also on warmed plates. Then, we can eat and drink and tell stories until it is time for dessert. Have a wonderful and delicious Thanksgiving dinner!