The best is to shop for fresh food once a week; keep plenty of ingredients like eggs, cheese, and olives on hand; and have fun dreaming up interesting dishes. What makes cooking meals a real drag is trying to shop, prepare, and cook all in the same evening. Here, for you are some great ideas for planning for and using leftovers.
At the San Francisco Ferry Building is a booth called Cap'n Mike's Holy Smoke. They make a pepper and garlic salmon that will keep for three weeks in the refrigerator. You can serve it with lemon on brown bread as an hors d'oeuvres. Or, you can turn it into the Farmers Market Salad. It would even be good in an omelette.
A delicious new dish from leftover pasta would be to turn it into a frittata. First of all you can make my Carbonara for dinner one evening. Make extra and store it in the refrigerator in a plastic bag. To turn it into a new dish, just melt some butter in a non-stick pan; spread out the cooked pasta, and pour in beaten eggs and cook as in the description for Vegetable Frittata.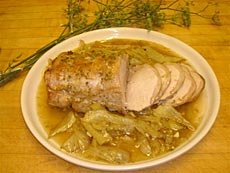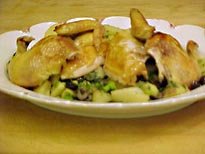 As mentioned previously, planned extra cooked vegetables can be put together in a beautiful Salad Nicoise, or Vegetable Frittata. And, a wonderful winter comfort food would be use seasonal cooked vegetables with leftover stale bread in a savory bread pudding. Examples of this can be found in my Recipe Collection under Pumpkin Bread Pudding (fall and winter);Asparagus Bread Pudding (spring); and Roast Chicken with Potatoes and Olives.
When it comes to meat, it is not easy to reheat meat without over cooking it. After cooking my recipes for Roast Pork with Fennel or Grilled Leg of Lamb with Red Wine Vinaigrette, you can turn it into fabulous luncheon or supper dishes by wrapping the meat with arugula in a flour tortilla with Salsa Verde or Tapenade and/or Aioli. See Grilled Halibut with Salsa Verde, or Grilled Salmon Sandwich with Arugula, Tapenade and Aioli for these sauces and spreads.
And, how can we talk about planning and using leftovers without mentioning dessert? We all know about the traditional British dessert originally called bread and butter pudding that became so that trendy pastry chefs were making it with brioche or croissants. But, a fun alternative is my Tuscan Bread Pudding, which is less sweet and made interesting by olive oil and rosemary.
So, what I have tried to do here for you is point out that cooking is fun especially when you plan meals using planned leftovers. In our modern lives, our time is so important, that it is much better to cook with what you have on hand rather than run to the store all the time.
Have fun cooking!