In this Newsletter, I am hoping to clear up some misinformation and dispel the rumors going around.   And, even more important with this Newsletter I am giving you fabulous Recipes – teaching you how to cook fresh fish – and even showing you with my YouTube Video how to cook this regal fish!   If you want to cook with confidence, do go to www.tantemarie.com/videos and always remember Cooking is Fun!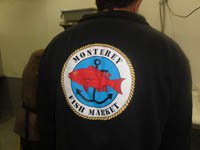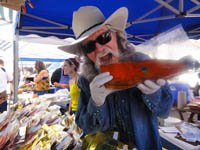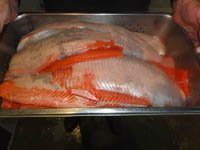 Wild salmon is a marvel!  It is born in fresh water up river and migrates to the ocean when young, where it may live for 3 to 4 years before making the long trip back to its birthplace to breed and die.  Generally, the fish are fatty and delicious just when they begin the trip upstream.  In the old days, we celebrated the beginning of the salmon season around May fifteenth and it lasted until the end of September.  Now, of course, everything has changed.  Consumer demand for a year-round supply of salmon led the Norwegians to start growing salmon in confined cages about thirty years ago.  This was quickly copied in many other countries.  What is now called "farmed salmon" has a justifiably bad name.  Not only is the farmed salmon business often subsidized, it relies heavily on antibiotics, pesticides, and creates a huge waste problem, in other words, feces or excrement.  Even more important is the fact that most farmed salmon is fed little fish from the sea which is disrupting the eco-system – it takes 4 lbs. of feed to make 1 lb. of fish.
So, what can the consumer do?  The best is to avoid buying Atlantic (or farmed) salmon altogether; and, to always buy fresh salmon from a reliable source.  At Tante Marie's, we get all of our fish from Monterey Fish Co. in Berkeley.  Their website has masses of information on sustainable fish–www.montereyfish.com.   At Monterey Fish Co., they do their best to provide local King salmon at this time or other species of salmon from the West Coast throughout the year—such species as Coho, Sockeye, and Steelhead.  Do you know there was a season for strawberries in England in the middle ages that lasted only a week?  Basically, everyone stopped work to celebrate the  strawberries coming into season.  The same is true of fresh peas in France – the season was so short that it was a cause for celebration.  Wouldn't it be fantastic if we, as consumers, went back to a time of cooking and eating foods only when they are in season – starting with wild salmon?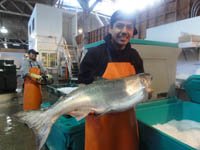 Ok, now that the local, sustainable, and line-caught King Salmon is available here, how do you cook it?  Well, the absolute best, if someone brings you a freshly caught salmon, is to fire up the grill, open a bottle of Chardonnay or Sancerre, and dress the fish, after it is cooked, only with olive oil, lemon, and sea salt.  Just like a beautiful woman doesn't need to decorate herself with masses of jewelry, so the freshest food needs very little embellishing to make it delicious.  However, if the fish is not right out of the sea, you can make it more flavorful with a sauce.  Below is a recipe for grilling one small fish on the bone; so, of course, you need to multiply the sauce to suit the number of people you are serving.   What you want to do before grilling is measure the fish not lengthwise but widthwise and cook it about 8 minutes an inch.  Remove it from the heat and let it rest a few minutes before serving.  If you are only serving a few people, you can keep the leftover salmon in the fridge for up to three days.  A couple of things to do with the leftover salmon are to serve it in a salad with spring (or summer) vegetables and more salsa verde or to make it into a wrap with arugula salad, sliced fennel and/or radishes, and aioli.
Don't worry if the fish is undercooked, salmon is little like red meat, it tastes better slightly rare and tastes awful if it is overcooked.   Just think–salmon is sometimes served raw like carpaccio or tartare; and can be cured to make gravlax or cured and smoked to make smoked salmon.   If you are thinking about making your salad or wrap with a high quality smoked salmon, my absolute favorite is what they call tempered salmon at Cap'n Mike's at the SF Ferry Plaza Farmers Market.  They, too, only work with wild Pacific salmon which they freeze when it is in season and smoke throughout the year—check it out on www.holysmokedsalmon.com.  It's the best!
So, what about cooking filet of salmon for two or four or more indoors?   Here, for you is my Recipe for Pan-Roasted Salmon (also my YouTube Video) with essentially the same sauce as the grilled.   This technique is the way it might be cooked in a restaurant when you order any protein.   It is to pan-fry the fish, chicken, or meat on the top of the stove and then put it in a hot oven to finish the cooking.  Generally, you can tell when the protein is cooked when it is firm to the touch; however, for salmon it is better to take it out of the oven when it looks barely opaque.  If your salmon has the skin on it, try to crisp the skin; if it is doesn't, a light golden color on the lighter side of the fish is the best; and make sure this side is served up with the darker side down.  Here are you Recipes of the Month and be sure to remember the Chardonnay or Sancerre!