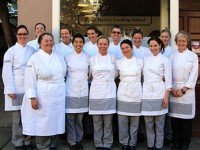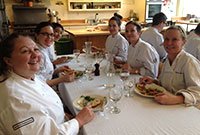 We have had a dad from the peninsula who helped start Yahoo drive up every day to school in his Porshe.  What is he doing now?  He is probably still cooking really well for his kids and creating new start-ups.  We had a 20 year old with hearing disability come to school for six months.  What he is doing now?  After spending a year in the kitchens of Quince, he is cooking for Traci desJardins at Manzanita's in Northstar and loving it.  We had young woman from the Marina graduate two years ago.  What is she doing now?  She is the mother of a young active boy and is a freelance recipe tester in her Redwood City home.  Here are three more stories:
After graduating in the spring of 2010, RISHI DAS worked for awhile at Mayfields Bakery in Palo Alto.  He then worked for nine months in the kitchens of Nopa on Divisidero at Hayes St.  While there he started a pickle company called GREEN HOLLOW PRESERVES, using local and seasonal fruits and vegetables.  These handmade pickles and chutneys can be found specialty shops in the Bay Area.  He is now in the getting his masters in business administration at MIT in Boston and running his pickle company on the side.  You can check it out on www.greenhollowsf.com.  Best wishes Rishi!
There was a young woman of Australian background, JESSICA MACKAY, who graduated in the fall of 2010.   After the Six-Month Full-Time Culinary Course, I got her an externship at Green's Restaurant in Ft. Mason.  The truth is I had no idea whether she would take to restaurant work.  She loved it—and they loved her.  After 1 ½ years at Green's, Jessica moved to Zuni, where she worked in the kitchen for another 1 ½ years.  She then worked in the front of the house at St. Vincent's for a time and is now a line cook at Contigo, a favourite restaurant of mine, on Castro near 24th St.  Although she is unsure of her future aspirations, she is definitely an accomplished and passionate cook.  All the best, Jessica!
STEPHANIE WEILER says "my primary job is my daughter!" Stephanie graduated from Tante Marie's about a year ago.  She has helped her fellow students with their catering events and she has started her own personal chef business, which she started after spending five weeks as an extern at LaCiccia, working in the kitchen full-time.  LaCiccia is a wonderful Sardinian restaurant on 30th at Church Sts.  What Stephanie does is prep on Mondays; cook and deliver to her clients on Tuesdays.  She delivers three meals, with reheating instructions, to her families for a weekly fee.  For the previous 15 years, she was a physical therapist.  To find out more, check out www.chefstephsf.com.  You go girl!
If you or anyone you know is interested in attending Tante Marie's Cooking School as a professional student, please call 415.788.6699 for further information or go to www.tantemarie.com.  In the meantime, do check out my monthly videos with easy home cooking ideas on YouTube. And, remember to Have fun cooking!