Brasserie Beck
The first in terms of amazing food is BRASSERIE BECK. With a stroke of good luck my friend Robert Egger and I were able to walk in around 9 p.m. and get a table in the bar. Robert runs many programs that make food for the shelters and a training program for cooks called DC CENTRAL KITCHEN. Altogether they provide meals for 4,500 people every day. BRASSERIE BECK was jammed with attractive young people drinking at the bar; there is an open kitchen where I could see all the action; and the service is excellent. It's clear to me that the eaters around us have sophisticated tastes—ordering steaming pans of Steamed Mussels with Belgium Frites. For starters we had Roulade of Duck Confit with Pommes Puree (with a rich brown sauce) and Braised Pork Belly and Rice Beans. The Lamb Shank with White Beans had a slightly smoky taste and was super tender, and the Crispy Skate Wing with Garlic Spinach was served with a beurre blanc-type sauce. This was country French food at its absolute best. Actually, the chef/owner is Belgium-trained. We ordered Belgium Bread Pudding for dessert, which turned out to be layered with chocolate. The most amazing thing about BRASSERIE BECK is the unbelievable list of beers—at least 120 different kinds, including vintage beers. BRASSERIE BECK is at 1101 K St. NW, 202.408.1717.
Central
Michel Richard (of Citronelle fame) has recently opened a brasserie downtown, also with a large drinking area, open kitchen, and fantastic food called CENTRAL. I would say that the food is simple. Along with such dishes as Macaroni and Cheese, Soft Shell Crab, and Fried Chicken he offers such standards as Ratatouille, which was so delicious, I would order it again. His Braised Rabbit with Spaetzle and Caramelized Carrots, Roast Leg of Lamb with Flageolet Beans, and Lamb Shanks with Creamy Corn were sublime. At CENTRAL, I was the guest of my longtime friends Francois and Patrice Dionot who started L'ACADEMIE DE CUISINE 30 years ago. They offer professional training in Gaithersburg and a fun schedule of recreational cooking classes in Bethesda, MD; they do a great job! CENTRAL Michel Richard is at 1001 Pennsylvania Ave. NW, 202.626.0016.
BLT Steak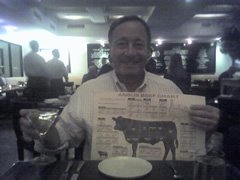 BLT STEAK is not really a brasserie as much as a really, really good French-inspired American steakhouse. Laurent Tourondel has done a fantastic job with his five BLT restaurants in New York, one in San Juan and one here in DC. First of all, every diner, lunch or dinner, is served a huge freshly made popover to start the meal with excellent butter and sea salt—wow! There is a good selection of seafood to start and an incredible choice of different kinds of steaks with sauces. All the steaks come with herb butter on top, and the side dishes are remarkable. My cousin, Bunker, and I had so much fun drinking martinis and pinot noir and comparing wagyu and black angus ribeye steaks. We had creamed spinach and perfectly sauteed wild mushrooms on the side. BLT Steak in DC has a great atmosphere, truly excellent service, and superb food. I liked it so much I went back for lunch of Spicy Soft Shell Crab BLT Sandwich with fabulous Fries, followed by a caramelized Crepe Souffle with Passion Fruit Sauce before taking the train to New York. (By the way, BLT here stands for bistro Laurent Tourondel.) BLT STEAK is at 1625 "I" St, 202.689.8999.
So, here you have it—what is hot in DC are lively places with attractive young people drinking a lot and eating fabulous food!