Shelley went about teaching herself about service, food, and wine all before opening A16 on Chestnut Street in 2004. Next, she opened SPQR on Fillmore Street in 2007. Now she is the proud owner of A16, SPQR, and has an interest in A16 in Tokyo. She also has a loving husband and two darling baby boys; is working on her second cookbook, and another restaurant idea. Last week Shelley was awarded Rising Star Restaurateur by starchefs.com. And, this week she is on her way to New York for the James Beard Awards where she has been nominated for Outstanding Wine Service. Wow! How does she do it all? Well, here's how—
What Shelley did was systematically learn the restaurant profession. She has worked in restaurants since she was 17 years old and has washed dishes, bussed tables, and waited tables. She was the reservationist for one year at Masa's under Julian Serrano; she was a server at Left Bank in Larkspur for three years under Roland Passot, and she waitressed at Fleur de Lys for six years under Hubert Keller — there is no better place to learn service than Fleur de Lys — the people there make a special effort to remember their customers and their tastes. Shelley also was my student at Tante Marie's Cooking School for the Six-Month Full-Time Culinary Course in 2001, of which I am very proud. At Tante Marie's she learned the theory and techniques of good cooking. After Tante Marie's she worked as a sommelier at Bacar with Debbi Zachareas while she worked towards getting her Master Sommelier. Shelley's knowledge of wine is amazing!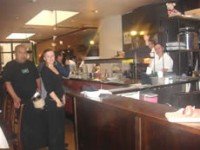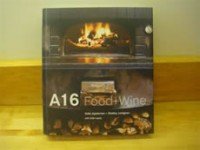 What you will notice first thing on entering A16 is how friendly everyone is. I like to walk right through the bar to show people the kitchen with the two wood-burning ovens, one for roasted dishes and the other for Neapolitan-style pizza. It is great fun to eat at the counter. The food is robust and seasonal and easy to share—almost all the pork products are cured in-house, and the burrata is delicious. The absolute best is to have the server chose and bring wine by the glass. They are all so helpful, and the wines are carefully chosen from small producers in Southern Italy.
Two years ago the A16 cookbook was published by Ten Speed Press called, A16 FOOD & WINE by the Nate Appleman and Shelley Lindgren. Although a lot of the recipes are written by a professional chef for professional chefs for instance often calling for prosciutto brodo, which not every home cook has on hand; I think it is a very special book especially for the volume of information on Italian wines given by Shelley. The photos are gorgeous too. What I have done for you is simplify the recipe given in the book for an absolutely delicious dessert—Chocolate Budino Tart with Sea Salt and Extra Virgin Olive Oil. Click here for the recipe.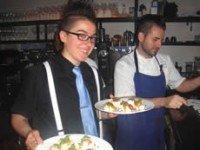 I would say that the food at A16 is somewhat more traditional southern Italian than at SPQR, where it is has a more of a modern interpretation with the use of lots of fresh pasta, prepared meats, and fresh seasonal vegetables. It is also a great place to sit at the counter and watch the cooks—the teamwork in such a small space is unbelievable. The staff at SPQR is also warm and welcoming and the wines are very special because they are made by lesser known wineries from familiar grapes. You can't help but have a good experience at SPQR.
So, what is life like for Shelley Lindgren? I think a huge thing is that she and her husband Greg are flexible enough with their schedules that they are able to trade off taking responsibility for the two baby boys. Greg owns three bars and a cocktail catering business. Generally, Shelley has meetings in the morning with such people as her business partner or the accountant; she may have wine tastings at one of the restaurants; or be busy training and supporting her staff in the afternoon; and you will find her almost every night of the week working at one of her restaurants. She feels that what she really wants to provide in her restaurants is a balance of excellent food, wine, and service. It is she that has the vision and it is up to her staff to carry out that vision. Her advice for anyone wanting to own and run a restaurant like this is to make sure you have a love of work, people, food, and wine. It's worth the investment of time to really learn the business as she did; and the rewards will be to do what you really love.
Thank you Shelley for everything you do to provide wonderful food and wine to all of us! Everyone loves you!