Are you looking for a delicious, quick supper dish for spring? Here is a favorite of mine. I got this recipe from Loni Kuhn who taught cooking for many years in her home in San Francisco. She was a great lady and a great cook!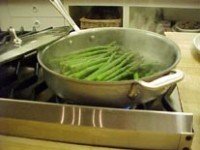 Ingredients
3 lbs. fresh asparagus
2 Tbs. softened butter
10 slices dense white bread
6 egg yolks
1-1/2 cup cream or milk
pepper
nutmeg
8 oz. good quality fontina cheese, thinly sliced
19 oz. thinly sliced prosciutto, or Black Forest ham (optional)
Directions
Trim the tough ends from the asparagus, lay it in a stainless saute pan, pour over 1/2 inch boiling water, add 1/2 tsp. salt, cover and place over medium high. Let simmer until the asparagus is tender when pierced with a fork. Remove and let cool on paper towels.
Generously butter a 14-inch pizza pan, or flat baking dish. Remove the crusts from the bread and arrange the slices all over the bottom of the pan. In a small bowl, mix the yolks and cream with pepper and nutmeg. Pour this over the bread. Place over this a thin layer of fontina. Bake the torta in a preheated 350 degree oven for 10 minutes.
Remove the torta from the oven, and arrange the asparagus over the cheese layer, in a spoke fashion. Top with the remaining fontina. At this point, the torta may sit at room temp. for 2 to 3 hours. When ready to serve, return the torta to a preheated 350 oven for 20 to 25 minutes, or until golden.
Serves 8.