According to Roberto, 9 out of 10 customers at Rosa Mexicano (in New York) order the Guacamole, which is always prepared tableside at all their restaurants in a traditional molcajete (mortar). He recommends following this recipe exactly at first and serving it immediately.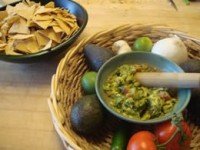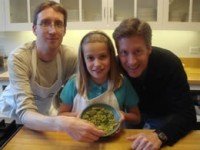 Ingredients
1 Tbs. finely chopped white onion
1 Tbs. finely chopped cilantro
2 tsp. finely minced jalapeno
1 tsp. coarse salt
3 Tbs. diced tomato
2 Tbs. finely chopped cilantro
1 Tbs. finely chopped white onion
Salt to taste
Directions
To make the base of the guacamole, grind in a mortar with a pestle or in a bowl with a fork the onion, cilantro, jalapeno, and salt until you have a smooth paste.
To dice the avocado, cut each in half with a sharp knife, then twist the two halves to release the pit. Remove the pit with a knife or a spoon. With the avocado in one hand and a small knife in the other cut a grid pattern in each half of each avocado. Then spoon release the diced avocado into the mortar.
To make the guacamole, stir the avocado into the chili paste with the tomato, cilantro, and onion, trying to keep the guacamole chunky. Taste and add salt and more jalapeno if needed.
Copyright © Mary S. Risley
(Recipe adapted from ROSA'S NEW MEXICAN TABLE by Roberto Santibanez.)