Here is a recipe from Jodi Liano, who has been teaching at Tante Marie's for years. She says, "This bar cookie has been a specialty of my mom for years-it was always the favorite in my family. The creamy cheesecake filling and the nutty, crunchy crust make for a cookie with the perfect texture. The cookies are best when they have cooled completely so, while they are very quick to make, be sure to leave yourself time to let them cool. They're best is if they can be refrigerated overnight."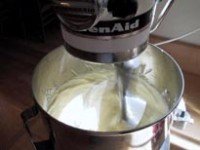 Ingredients
Crust:
1/3 cup butter, room temperature
1/3 cup brown sugar
1 cup flour
1/2 cup walnuts (good substitutes are pecans or macadamia nuts)
Filling:
1/4 cup sugar
8 ounces cream cheese, room temperature
1 egg
2 tablespoons milk
1 tablespoon fresh lemon juice
1 teaspoon vanilla extract
1/2 cup fresh blueberries, washed and dried well
Directions
Preheat oven to 400 degrees.
To make the crust, place the butter, brown sugar, flour and nuts in the bowl of a food processor. Blend until combined well. Reserve 3/4 cup of the crust mixture to use on top of the cookies and press the rest into a 9-inch square baking dish or a quarter-sheet pan with sides (note: cookies baked in a quarter-sheet pan will be thinner). Bake the crust in the preheated oven for 10 to 12 minutes, or until lightly browned. Remove from the oven and reduce the oven temperature to 350 degrees.
Meanwhile, make the filling. In the bowl of an electric mixer, beat the sugar and cream cheese until well combined and fluffy. Add the egg, milk, lemon juice and vanilla and beat at high speed for 3 to 5 minutes, scraping down the sides occasionally, until the mixture is smooth with no lumps.
Pour the filling mixture over the baked crust and gently spread it to cover in an even layer. Scatter the blueberries over the filling and the sprinkle the remaining crust mixture over the top. Bake in the 350 degree oven for 20 minutes, or until the filling is just set and slightly puffed.
Cool the cookies completely on a rack. Place the cooled cookies in the refrigerator for at least two hours before cutting. Cut into bars and serve. Cookies and be tightly wrapped and frozen for up to two weeks or left, wrapped, in the refrigerator for up to five days.