This dish is new and fun and perfect for a winter's easy entertaining or family supper! It is my interpretation of a dish I ate in December at BARBUTO, a lively casual restaurant near the Meat Packing District in New York. The chef/owner Jonathan Waxman, a good friend, really loves coming up with delicious Italian-inspired dishes and he has a great group of fun people working for him. Here are my photos of the dish from BARBUTO and Justin, the chef de cuisine. According to Giuliano Bugialli in his new book on PARMA, mostardo is a condiment often eaten with boiled meats in Italy and can also be served with fresh or hard cheese. It is usually carefully candied fresh fruit marinated in a sugar syrup flavored with the must of wine and mustard seeds. Must is unfermented grape juice and can be found in specialty stores but it's fine to substitute a little red or white wine with balsamic vinegar in this recipe. Quinces are even harder to find than must. It is an autumn fruit that is very interesting to cook; however, Asian pears are much easier to find. You may not need all the pear mostarda in this recipe, so try some with cream cheese as an hors d'oeuvre. (I did try this recipe with mustardo that I bought in an Italian specialty store, but found it way too sweet with the ribs and cabbage.)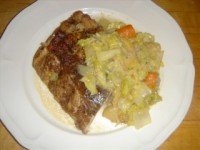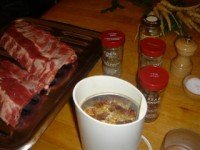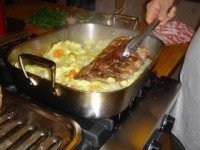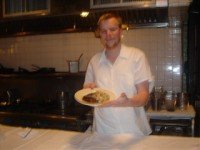 Ingredients
1 Tbs. each whole black peppercorns, anise seeds, star anise, coarse salt, cumin seeds, and red pepper flakes
2 full sides of baby back ribs, about 4 lbs.
4 large quince (or Asian pears)
1-1/2 cups sugar
2 lemons, halved and thinly sliced
3 Tbs. yellow mustard seeds, toasted
3 Tbs. verjus (or wine)
1/4cup olive oil
4 garlic cloves, thinly sliced
1 large onion
2 large carrots
1 small head Savoy cabbage
Coarse salt
Freshly grated black pepper
Directions
To prepare the ribs, grind the spices and salt in a spice grinder until fine.  (Reserve a tablespoon of the spice mixture for the cabbage.)  Sprinkle the slabs of ribs on both sides, cover loosely, and chill overnight or for two or three days.
To make the mostarda, cut the quince into large chunks and toss in a bowl with the sugar.  Store overnight. The next day, mix in the lemons, mustard seeds, and verjus and bring to a boil, stirring. Let simmer for 30 minutes.
To prepare the vegetables, put the garlic, onions, carrots and cabbage in a wide pan with the olive oil, a generous sprinkling of salt, and 2 cups water. Cook over medium high heat until the vegetables are half wilted.
Brown the ribs on a rack under the broiler just until golden brown, 10 to 15 minutes. Place the ribs over the cabbage mixture, making sure to add any juices, fat, and the reserved spice mixture. Roast the ribs and cabbage on a 375 degree oven, until the meat is tender, another 30 minutes.
When the ribs are tender, remove them to a warm plate, and cook down the cabbage mixture until completely soft. Stir in 2 cups of the mostardo, taste and adjust the seasoning.  Serve warm.
Note: You can cover this dish with foil, chill, and reheat in a 350 degree oven the next day.
BARBUTO
775 Washington Street @West 12th Street
212.924.9700
www.barbutonyc.com
Recipe adapted from a recipe given to me by Johathan Waxman, chef/owner of BARBUTO in New York City.
Serves 8.