Here are two side dishes that are delicious additions to your Thanksgiving table!
Butternut Squash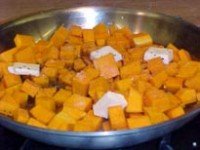 Ingredients
2 Tbs. butter
1-1/2 lbs. butternut squash, peeled, seeded and cut into 1/2-inch cubes
coarse salt and freshly ground black pepper
Directions
Melt the butter in a wide, heavy saute pan. Add squash and toss to coat. Add 1/2-inch of water and 1/2 tsp. salt. Cover and cook until squash is tender but still holds its shape, stirring frequently, about 15 minutes. Season to taste with salt and pepper.
Serves 4

---
Hashed Brussel Sprouts
Ingredients
2 lbs. large brussel sprouts
juice of a lemon
4 Tbs. butter or olive oil
1/3 cup white wine
salt and freshly ground pepper to taste
Directions
Cut the stems from the Brussel sprouts and remove the outer tough leaves. Drop them through the slicing blade of an electric food processor. Toss with the lemon juice in a large bowl. Heat the olive oil in a saute pan over high heat, stir in the hashed sprouts. Add the white wine and continue stirring for about 3 minutes, until the sprouts are bright green and barely crunchy. Reduce the heat to low, season with salt and pepper, and cook or one more minute.
Serves 8.