Here is a delicious summertime salad that I learned from Thomas my favorite Roast Chicken/Porchetta cook! Thank you Thomas!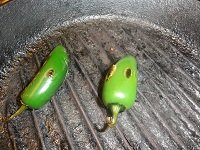 Ingredients
7 ears yellow corn
2 jalapenos
4 green onions, chopped (equal amounts of green and white)
1/2 cup chopped red onion
3 Tbs. minced cilantro
juice from 2 limes
2-3 Tbs. olive oil
coarse salt and freshly ground pepper
2 avocados
Directions
To char the corn, either preheat a charcoal or gas grill or an iron pan with ridges. Husk the corn and lay it on the grill to get a light char on it, turning occasionally. When lightly charred wrap all the corn in foil and let rest for two hours. (This is to help it retain the corn juices.)
Also, char-grill the jalapenos. Remove them from the pan, cut off the ends and cut away from the seeds and ribs. Chop the jalapenos about the same size as a kernel of corn.
When the corn has rested, cut the kernels from the cobs and place the kernels in a bowl. Mix in the green and red onions, cilantnro, lime juice, olive oil with salt and pepper to taste. (This salad can keep for several days in the refrigerator. If you are planning to make it ahead and store it, it is best to rinse the chopped red onions with cold water to prevent them from discoloring.)
When ready to serve, cut the avocado into small dice and stir gently into the salad. Taste and adjust the seasoning.
Recipe adapted from Thomas Onderdatt of ROLI ROTI the food truck with the longest lines at Bay Area Farmers Markets.