This recipe won't take much time to make and is perfect for a Sunday night supper with friends. It is my interpretation of a recipe by Gerald Hirigoyen in his cookbook called PINTHOX.
Piperade
Piperade is a wonderful mixture that you can make and keep in the fridge for five days. Here it is used as a sauce for Chicken Thighs and a base for a Baked Egg dish. You can also use it with Fish.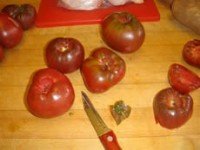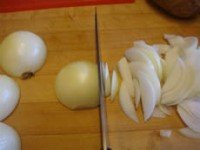 Ingredients
1/2 cup olive oil
1 small onion, thinly sliced lengthwise
1 red bell pepper, cored, seeded, and cut lengthwise into 1/4-inch strips
1 yellow bell pepper, cored, seeded, and cut lengthwise into 1/4-inch strips
6 garlic cloves, ccrushed or thinly sliced
4 ripe tomatoes, cored and cut into rough cubes
coarse salt
Piment d'Espelette to taste
Directions
Heat a large saute pan over medium-high heat until hot. Add the olive oil and warm it until it ripples. Stir in the onion, bell peppers, garlic, and tomatoes and continue cooking stirring occasionally for about 10 minutes, or until the vegetables have softened and have begun to color. Remove the pan from the heat and let it cool.
Season to taste with salt and piment d'Espelette before using, and then use immediately, or store in a tightly covered container in the refrigerator for up to 5 days.
Makes 3 cups.
Note: If you can't easily find Piment d'Espelette, you can substitute smoked paprika but be very careful to season with this pepper judiciously and taste throughout the cooking. It won't be the same but it will be good if you pay attention.
---
Chicken Thighs with Spicy Basque Sauce
Ingredients
4 chicken thighs
coarse salt and freshly ground black pepper
2 Tbs.olive oil
1 Tbs. dark brown sugar
1/4 cup sherry vinegar
1 heaving cup Piperade (see below)
2 Tsp. piment d'Espelette
2 Tbs. minced flat-leaf parsley
Directions
Sprinkle the chicken on all sides with salt and pepper. Heat a medium-sized saute pan over high heat until hot. Add the olive oil and warm it until it ripples. Add the chicken, skin side down, without crowding the pan and cook undisturbed for 3 to 4 minutes, or until the skin is golden brown. Using tongs, turn and cook on the second side for 3 minutes, or until lightly browned. Transfer the chicken to a plate and discard the oil.
Return the pan to high heat and stir in the brown sugar, mixing until it melts; stir in the sherry vinegar. Return the pan to medium heat and stir the mixture for about 1 minute, or until it has thickened and reduced. Stir in the piperade and the piment d'Espelette. Return the chicken to the pan, cover, decrease the heat to low, and cook for 10 minutes more, or until the thighs are cooked through. Taste and adjust the seasoning.
To serve, spoon a pool of the sauce on each of four warmed platers, and top with a chicken thigh. Sprinkle with the parsley.
Serves 4.
Copyright © Mary S. Risley
(Recipe adapted from PINTHOX by Gerald Hirigoyen)
---
Eggs with Piperade
A great idea for a breakfast or lunch dish with Piperade is to bake it with eggs. To do this spread a cup of the Piperade on the bottom of individual ovenproof dishes perhaps with diced ham or sausage and crack an egg on top. Bake these in a 400 degree oven for about 15 minutes, until the whites are cooked. Sprinkle with salt and pepper and serve.
Copyright © Mary S. Risley