These wonderful French macaroons can be found at French pastry shops in Paris and San Francisco. They are fun to make and delicious to eat!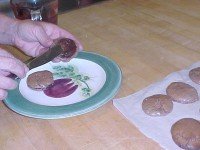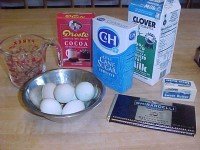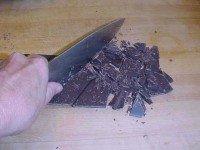 Ingredients
3/4 cup milk
5 Tbs. butter
8 oz. bittersweet or semisweet chocolate, chopped
2 cups blanched almonds
1 lb. powdered sugar
6 Tbs. unsweetened cocoa powder
6 egg whites (3/4 cup)
Directions
To make the chocolate filling, put the milk and butter in a saucepan and bring to just below the boil. Remove from heat and stir in the chocolate. When thoroughly mixed, pour into a bowl. Let cool, cover with plastic wrap and chill overnight.
To make the macaroons, preheat the oven to 400 degrees and line 4 baking sheets with parchment. Mix the sugar and almonds in the food processor until the almonds are finely ground. Add the cocoa and mix again. In a clean copper or glass bowl, beat the egg whites until they are smooth and hold a stiff peak. With a rubber spatula, fold in the cocoa mixture in four batches to make a thick batter. Spoon tablespoons of the batter on the prepared pans about a inch apart. Bake for about 11 minutes in the preheated oven. To cool, transfer paper off the baking sheets onto the counter.
To assemble, spread a tablespoon of the chocolate ganache on the bottom of a macaroon, cover this with the bottom of another macaroon. Chill for at least 1 hour.
Note: To remove skins from almonds, simply drop them into boiling water, turn off the heat, and let sit for 5 minutes. The skins should slip off easily. This is called blanching.
(Recipe adapted from a recipe in BON APPETIT MAGAZINE of Pierre Herme, who owns several patissiers in Paris.)
Makes 24