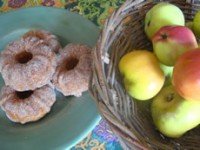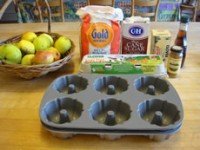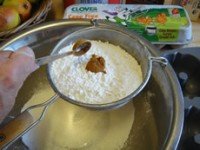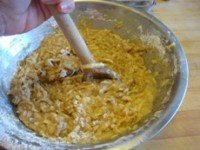 Ingredients
2-1/2 cups self-rising flour, sifted
1 tsp. ground cinnamon
1/2 lb. butter (2 sticks), melted
1 cup brown sugar
1/2 cup maple syrup
1 tsp. vanilla
4 eggs
6 red apple, peeled and grated
2 tsp. ground cinnamon
1 cup superfine sugar, for coating
Directions
Preheat the oven to 375 degrees. With a brush paint the inside of 12 one-cup (8 oz.) bundt tins (or large muffin tins.)
Place the flour and cinnamon in a sieve and sift into a large mixing bowl. Add the melted butter, brown sugar, maple syrup, eggs, and apple and mix well with a wooden spoon. Spoon the batter into the prepared pans. Bake in the preheated oven for 30 minutes or lightly browned and pulled away from the edges of the pan. Turn out immediately.
Sieve the additional sugar and cinnamon together into another bowl. Coat the cakes in the sugar mixture and cool.
Makes 12
Note: You can buy mini bundt molds from Economy Restaurant Fixtures in San Francisco.
(Recipe adapted from DONNA HAY Magazine.)