Here is a recipe of a refreshing cold soup for summer that is beautiful to look at and delicious — it was served to us at a restaurant in a hill town in Provence.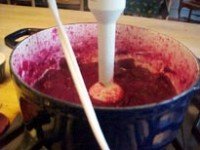 Ingredients
3 Tbs. olive oil
2 red onions, chopped
coarse salt
1/4 cup red wine
3 lbs. beets, peeled, and cut in 1/2-inch dice
1-1/2 quarts chicken (or vegetable) stock
freshly ground black pepper
2 to 3 Tbs. balsamic (or sherry) vinegar
1 cup creme fraiche (or sour cream)
1/2 English cucumber
1 Tbs. olive oil 2 oz. soft fresh goat's cheese
Directions
To prepare the soup, put the olive oil, onions, and a half a teaspoon of salt in a saucepan over moderately high heat. Cook for about 10 minutes, stirring from time to time, until the onions are soft. Stir in the wine and let boil a minute, stirring, before adding the beets with the stock. Continue cooking until the beets are soft. Puree in a blender, a food processor, or with an immersion blender. Season to taste with salt, pepper, and vinegar. Stir in the cream. Transfer the soup to a bowl and chill.
To prepare the garnish, cut the cucumber (with it's peel) into a tiny dice. Coat the cucumber with olive oil and season with salt and pepper.
To serve, ladle the soup into bowls, place a generous spoonful of the diced cucumber in the middle of each bowl. And, arrange three small spoonfuls of the goat's cheese around the cucumbers.