Here is a delicious-healthful soup that will keep for a week in the fridge. The best way to clean fresh or wild mushrooms is to wipe them with a damp cloth. Also, mushrooms are cooked enough when they are half wilted—if they keep cooking they will shrink considerably.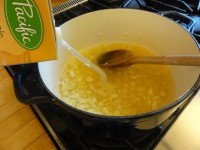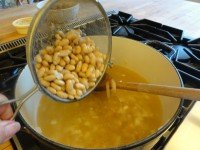 Ingredients
2 cups fresh sourdough bread torn
1 garlic clove, minced
1 Tbs. thyme leaves
1 Tbs. olive oil
coarse salt and freshly ground black pepper
2 Tbs. olive oil
1 large onions, chopped
2 garlic cloves, minced
1 Tbs. thyme leaves
1 lb. canned white cannellini beans, drained and rinsed
4 oz. dried porcini mushrooms, soaked in 1 cup hot water and coarsely chopped
2 cups white or brown mushrooms, quartered if large
1 qt. chicken, vegetable, or mushroom stock
1/2 cup heavy cream
2 Tbs. butter
1 cup shitaki mushrooms, quartered if large
1 cup brown mushrooms, quartered
Directions
To make the garlic croutons, place the bread, garlic, thyme, olive oil, salt and pepper on a baking tray and toss to combine.  Cook for 8 to 10 minutes in a 400 degree oven or until crisp and golden.  Set aside.
To make the soup, cook the onions in the oil with a sprinkling of salt in a large, deep saucepan over medium heat. Add the garlic and cook, stirring occasionally, until softened, about 5 minutes.  Stir
in the thyme, beans, the dried and fresh mushrooms.  Pour in all but the last tablespoonful of the mushroom liquor with the stock, season with salt and pepper.  Bring the soup to the boil. Reduce heat and cook for about 15 minutes.  Stir in the cream and cook for a further one minute.  Using an immersion blender or food processor, blend until smooth.  Add salt and pepper to taste.
To make the garnish, heat the butter in a large, non-stick frying pan over high heat.  Add the shitaki and brown mushrooms and cook, 3 to 4 minutes or until golden and just cooked.  Sprinkle with salt
and pepper.  To serve, divide the croutons and sauteed mushroom between bowls. Ladle over the warm soup.  Serves 4 to 6 MSR (Recipe adapted from DONNA HAY MAGAZINE)