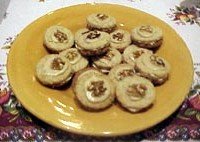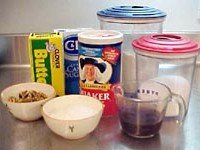 Ingredients
8 Tbs. (1 stick) butter
1/4 cup sugar
2 tsp. light corn syrup
1/2 cup flour
1 cup oatmeal
1/4 cup unsweetened coconut
a pinch of salt
a pinch of baking soda
4 Tbs. butter
1/3 cup confectioners' sugar
approx. 1 tsp. coffee essence
1/2 cup confectioners sugar
approx. 1 Tbs. boiling water
approx. 1-1/2 tsp. coffee essence
10 to 12 walnuts
Directions
To make the cookies, cream the butter and sugar, add in the corn syrup, then gradually stir in the dry ingredients and mix well. Roll out this dough onto a floured board to about 1/4-inch thickness — the mixture will be slightly sticky and will be a little difficult to handle. Cut out rounds with a 1-1/2 inch cookie cutter, place on a parchment-lined baking sheet, and bake in a preheated 350 degree oven for 12 to 15 minutes. Remove to a wire rack and allow to become quite cold.
To make the coffee filling, cream the butter and add the sieved confectioners' sugar, beat until light and fluffy and then add the coffee essence. Spread a little on each biscuit and sandwich two biscuits together.
To make the coffee icing, sieve the confectioners' sugar, add the coffee essence and enough boiling water to mix to a spreading consistency, very little does it, so be careful not to add too much. Spread a little blob of icing on top of each biscuit and decorate with a walnut half.
(Recipe from Ballymaloe Cookery School in Cork, Ireland.)
Makes 12 cookies