Here is my interpretation of a salad I was served at The River Cafe in London one summer. It's perfect when figs are in season!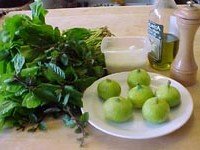 Ingredients
6 green figs
12 small balls of fresh mozzarella
1 bunch mizuna or arugula
1 bunch Thai basil or purple mint
1/3 cup fruity extra-virgin olive oil
coarse salt and freshly ground black pepper
1 tsp. lemon juice
Directions
Wash the figs and remove the little stems with a paring knife. Remove the mozzarella from their liquid. Wash the greens.
Place the mizuna or arugula and basil or mint, without any coarse stems, in a medium bowl and toss with the olive oil.
Pile in the middle of two dinner plates. With your thumbs gently pull each fig in half and lay them open-side up around the plates. Arrange the cheese around as well. Sprinkle with a little extra olive oil, a few drops of lemon juice, and the coarse salt. You can grind over some pepper if you like.
(Recipe adapted from THE RIVER CAFE in London.)
Serves 2.