Last Saturday night, I hosted a couple of friends for dinner at my house. Actually, we cooked together. When they arrived, I offered them a glass of wine and we snacked on cheese bread and Mediterranean olives. Then Skip stuffed little sweet red peppers that I bought at the Farmers Market with fresh mozzarella, which we heated in the oven. And, Skip made Salsa Verde in the food processor. I rubbed big pieces of fresh halibut with olive oil, coarse salt and freshly ground black pepper. I also did the same with a mixture of new fingerling potatoes. We roasted the potatoes in the oven for about 25 minutes, grilled the fish over a charcoal fire, ate the stuffed red peppers, and sat down to the table with another glass of Chardonnay, and grilled halibut with salsa verde and roasted new potatoes, followed by a green salad and baked figs — pretty easy, especially when everyone helps out!
Salsa Verde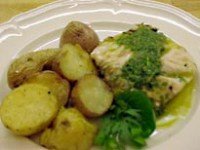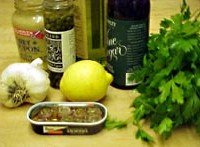 Ingredients
5 Tbs. parsley
2 Tbs. capers
6 flat anchovy fillets
1 clove garlic
1/2 tsp. Dijon-style mustard
1/2 tsp. red wine vinegar (if sauce is to go with meat)
or 1 Tbs. lemon (if sauce is to go with fish)
1/2 cup olive oil
coarse salt
Directions
Place all the ingredients except the olive oil in the food processor. Process until roughly chopped, with the machine running, pour in the olive oil. Immediately, stop the machine when all the oil is added. Taste for salt and for piquancy. Add vinegar or lemon juice to taste. You could also add chopped hard cooked eggs.
---
Catherine's Figs
Take nice soft, dark figs, dip them quickly in water, then in sugar, and place them on a baking pan, in a 325 oven, until the sugar melts and the figs are plump and juicy.