You could also grill these peppers over a gas or charcoal grill.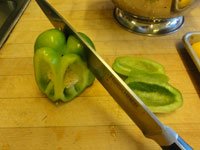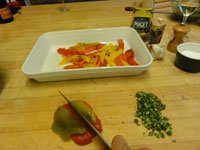 Ingredients
6 red and/or yellow sweet bell peppers
1/4 cup virgin olive oil
2 anchovy fillets, rinsed, patted dry, and finely chopped
1 tsp. minced fresh garlic
1/4 cup chopped fresh Italian parsley
1/4 tsp. salt
1/8 tsp. freshly ground black pepper
Directions
After washing the peppers, cut them in quarters discarding the seeds and the pulp. Lay the pieces, rounded side up on a roasting pan and broil until quite black. Place the pieces of pepper in a brown paper bag for 5 minutes to steam the edges, then remove the blackened skin. Cut the peppers into strips about half an inch wide and lay in a serving dish.
Mix together the olive oil, anchovies, garlic, and parsley with salt and pepper. Spoon this over the peppers. Serve at room temperature with crusty country bread.