What to serve for the holidays? Often, smoked salmon and/or caviar come to mind Basically, you can buy good quality smoked salmon all over the country. If it is indeed good quality, it should be served simply on brown bread with a squeeze of lemon and a few grinding of pepper. Lesser quality can be served with things like capers, onions, or olive oil. Good quality caviar, in my opinion, is best served on buttered white toast with a squeeze of lemon. However, many great cooks prefer blini. What I have given you here is a pancake instead of a blini, that can be made ahead and served at room temperature. There is very good quality caviar coming now from farmed sturgeon near Sacramento. Here is an easy, do-ahead first course for a holiday menu! I ate this first at the caviar bar at Heathrow Airport — a great stop off before boarding a plane for a long flight! You can make the pancakes ahead, warm them slightly, cover them with creme fraiche, smoked salmon and garnish with caviar and/or chives. Happy eating!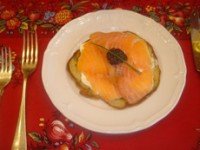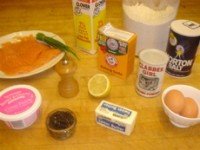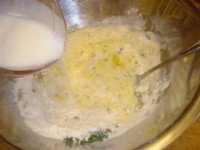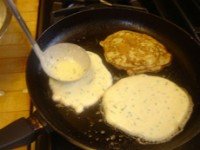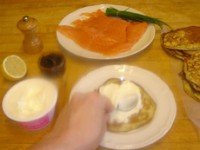 Ingredients
2 Tbs. butter plus 3-4 Tbs. for cooking the pancakes
1 cup flour
1 tsp. baking powder
1/2 tsp. baking soda
1/2 tsp. salt
freshly ground black pepper
2 eggs
1 1/2 cup buttermilk
4 Tbs. minced fresh chives, or very finely chopped green part of scallions
1 cup creme fraiche
1 lb. good quality smoked salmon
2 oz. good quality caviar
juice of half a lemon
Directions
To make the pancake batter, melt 2 tbs. butter in a small pot. Let cool. In a large bowl, sift together the flour, baking powder, baking soda, salt, and a few grindings of freshly ground pepper. Make a well in the center of the dry ingredients and pour in the two eggs with the melted butter, buttermilk, and chives. Mix until all the ingredients are incorporated.
To make the pancakes heat a large non-stick frying pan with enough butter to coat the bottom. When the bubbles subside and the pan is hot, ladle large spoonfuls of batter into the pan, and cook until bubbles can be see on the surface of the pancakes. Turn and cook on the other side. Remove to wax paper. Repeat with the remaining batter. (These pancakes can be stacked, wrapped in wax paper and foil, and stored in the fridge for 3-4 days.)
To serve, reheat the package of pancakes gently in the oven, place a pancake on a warm plate, cover with a tablespoon of creme fraiche, a couple of large slices of smoked salmon trimmed to fit the pancake, and top with a small spoonful of caviar, squeeze a few drops of lemon over all and place a chive across the caviar. (These are best served at room temperature.)
(If you prefer not to serve caviar, sprinkle the salmon with minced chives.)
Serves 8.