This is an absolutely delicious holiday dessert that could also be made into individual tarts. Happy eating!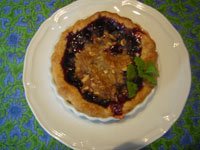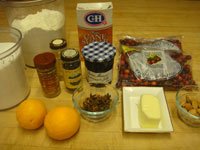 Ingredients
1 1/2 cups red wine
1 cinnamon stick
2 star anise
1 vanilla pod, split
4 cloves
juice and grated zest of 1 orange
1 lb. fresh cranberries
1 cup light brown sugar
3/4 cups red currant jelly
2 Tbs. butter
1/2 cup flour
1/2 cup brown sugar
1/2 tsp. ground cinnamon
3 Tbs. pinenuts (or almonds)
Directions
Roll out the pastry to about 3/8 inch thick and line a 9-inch tart tin with removable bottom with the dough. Prick the bottom with a fork and chill for 20 minutes. Bake blind (which means to line it with parchment and fill it with beans) for 20 minutes in a reheated 425 degree oven, remove the beans and bake another 10 minutes. Remove from oven and chill before filling.
Pour the wine into a saucepan and add the cinnamon stick, star anise, vanilla pod, cloves, and orange juice and zest. Bring this mixture to the boil and then simmer gently for 15 minutes to infuse. Remove the spices, add the cranberries and 1 cup of the sugar. Stir in the red currant jelly and bring back to the boil; then leave to simmer on a low heat for 45 minutes, stirring occasionally, until thick and the cranberries have burst. Let cool.
While the cranberrry filling is cooking, make the crumble topping. Cut the butter into the flour in a bowl until it resembles fine breadcrumbs; then fold in remaining brown sugar, cinnamon, and pinenuts.
To assemble, pour the cranberry filling into the tart shell and sprinkle over the crumble topping. Return the tart to the oven and bake for another 20 minutes until golden and crisp on the sides. Let cool on a rack. Serve with creme fraiche, ice cream, or lightly sweetened whipped cream on the side.