Tante Marie's Entertaining and Basics teacher Jodi Liano says, "These decadent cakes are full of rich chocolate flavor! They can be made ahead of time, making them the perfect dessert for your Valentine's Day dinner. With just a kiss of raspberry in the center of each cake, Miniature Chocolate Raspberry Cakes will be sure satisfy your Valentine's Day (or any day!) sweet tooth."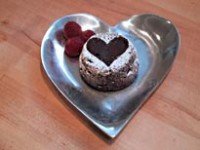 Ingredients
5 tablespoons unsalted butter, plus 1 tablespoon for greasing the pans
5 ounces good quality bittersweet or semisweet chocolate, finely chopped
3 eggs
1 teaspoon pure vanilla extract
2 tablespoons sugar
1/2 cup raspberries
powdered sugar, for garnish
Directions
Preheat the oven to 325 degrees. Melt 1 tablespoon of butter and brush it inside eight 1/2-cup muffin cups.
Cut the 5 tablespoons of butter into small pieces and place them in a small stainless steel bowl with the chocolate. Place the bowl over a small pot of barely simmering water, making sure the water does not touch the bottom of the bowl. The steam from the water will melt the chocolate and butter. Stir to blend and, when melted and smooth, set the bowl aside.
In the bowl of an electric mixer, whisk the eggs, vanilla and sugar until they are thick and tripled in volume. Fold the chocolate mixture into the egg mixture until well combined.
Fill each muffin cup 1/3 full with the cake batter. Place one raspberry in each cup then top with more cake batter, filling each muffin cup 2/3 full. Bake cakes for 13 to 15 minutes, until just set and dry on top. Cool cakes in the pan on a rack. Invert cakes on to the rack and refrigerate, tightly wrapped in plastic, until ready to use. The cakes can be refrigerated up to 2 days or frozen up to 1 month.
Just before serving, cut out a small, paper heart, just big enough to fit on top of one cake. Place the cake on a work surface or plate (not the serving plate) and place the heart on top. Pour some powdered sugar in a small bowl and, using a small strainer or sifter, dust the top and sides of the cake with the sugar. Carefully remove the paper heart and transfer the cake to a serving plate. Repeat with remaining cakes. Garnish each plate with some of the remaining raspberries and serve.
Makes 8 cakes (so freeze a few for later!)