As you know it's hard to get an accurate recipe from an Italian grandmother. They say things like "just add some of this" or "a pinch of that", and my friend, T.T., says it's even harder to write a recipe tht she has been cooking all her life. So, here, for you, is my interpretation of T.T.'s interpretation of her grandmother's chicken saute.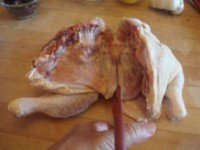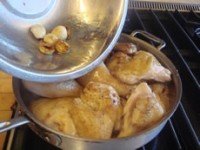 Ingredients
One 3-3/4 lb. chicken
Coarse salt and freshly ground black pepper
1/4 cup extra-virgin olive oil
5 garlic cloves, smashed
1 cup dry white wine
1 cup good quality chicken stock
Two 2-inch strips lemon zest
8 Nicoise olives (preferably pitted by hand)
5 garlic cloves, minced
1 bunch Italian flat-leaf parsley, minced
2 Tbs. butter
Directions
Season the chicken with salt and pepper.
In a large heavy saute pan, cook the whole garlic cloves in the olive oil until they start to turn golden in color. Transfer the garlic to a large metal bowl. Immediately, lay the pieces of chicken one layer at a time in the flavored oil, being careful not to burn the bottom of the pan. As the pieces brown, transfer them to the bowl with the garlic. When all the chicken has browned, quickly pour off the oil in the pan and immediately pour in the white wine to deglaze the pan, scraping up the brown bits on the bottom of the pan. Add the chicken stock and reduce, stirring occasionally for 5 minutes.
To finish cooking the chicken, return the chicken pieces with the whole garlic cloves and the strips of lemon to the pan, cover, and simmer gently until the chicken is cooked through, about 20 to 25 minutes. Transfer the chicken to a warm serving dish. Boil up the chicken juices adding more stock if necessary. Stir in the olives, then the minced garlic and parsley and let simmer gently 2 to 3 minutes. Turn off the heat, dot the sauce with softened butter and swirl in the butter. Taste the sauce for salt and pepper and pour over the chicken. Serve with sauteed Swiss chard (or spinach) and creamy polenta. Garnish with lemon wedges.