This is the time of year when strawberries are at their best. To bring out the flavor of fresh strawberries let them sit for 30 minutes in a little sugar and lemon juice, then sandwich them between freshly made shortcake and give them a big dollop of lightly whipped cream — the best dessert for early summer!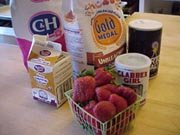 Ingredients
8 cups ripe, red strawberries
1/2 cup sugar, or more to taste
juice of 1/2 lemon
4 cups flour
3 Tbs. sugar
1/4 tsp. salt
5 tsp. baking powder
1-1/2 sticks butter (12 Tbs.)
1 -1/2 cups heavy, whipping cream
4 Tbs. butter, melted
sugar
1-1/2 cups heavy, whipping cream
1/4 tsp. vanilla extract
Directions
Wipe any dirt from the strawberries with a damp cloth, and remove the green stems. Slice the strawberries in 1/4-inch slices. Process half the strawberries in a food processor until chunky. Place these in a large bowl with the remaining berries and the 1 cup sugar. Mix with the lemon. Set aside, covered for about 30 minutes to develop flavor.
In a large mixing bowl, sift together the flour, sugar, salt and baking powder. Cut in the butter with a pastry blender or your fingers until the butter looks like flakes of oatmeal. With a fork stir in the cream and mix. Place the dough on a board and knead gently until it comes together in a ball. Quickly, roll out the dough to about 1/2-inch thickness. Using a 3-inch biscuit cutter, cut as many rounds as you can. You can press together any scraps and cut out more biscuits. Brush with melted butter and sprinkle with sugar. Place the biscuits on a parchment lined baking sheet, and bake in a preheated 425 degree oven for 10-15 minutes, until the biscuits are slightly golden. Remove from the oven and cool on a rack.
Place the remaining cream in a bowl and whisk until the mixture forms soft peaks when lifted on the end of the whisk. Stir in vanilla and sugar.
Pull or cut the biscuits lengthwise to form two halves. Place a bottom half of a shortcake on each plate. Top with a generous spoonful of berries. Cover with a top half and a few more berries, and top with vanilla flavored whipped cream.