This is my adaptation of a Pat Wells recipe. I make it over and over!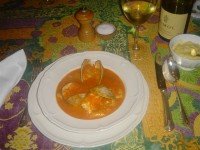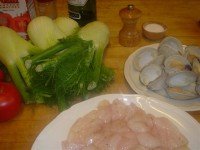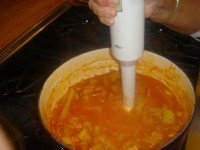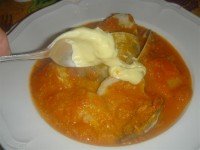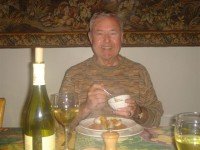 Ingredients
1 lb. littleneck clams
1 lb. fresh white fish such as halibut, sea bass, or ling cod
3 Tbs. extra virgin olive oil plus additional for the fish
coarse salt and freshly ground black pepper
3 garlic cloves, smashed
1 tsp. fennel seeds
2 Tbs. tomato paste
2 Tbs. pastis, or other anise flavored liqueur
1 16 oz. package whole plum tomatoes with their juice
6 ripe red tomatoes (about 1 1/2 lbs.), quartered and seeded
2 fennel bulbs (about 1 lb.) trimmed, halved, and cut into 1 inch pieces
a pinch of cayenne pepper
a small pinch of saffron threads
grated zest of 1 orange
Directions
To steam the clams, put the cleaned clams in a heavy pan with 2 inches of water, cover, and place over high heat until the clams open. You can coax them by shaking the pan once or twice. Turn of heat and uncover.
To prepare the fish, cut the fish into 1 inch pieces, rub with olive oil, and sprinkle with salt and pepper.
To make the soup base, in a large, heavy bottomed pan, put the olive oil with the garlic and cook for two minutes. Meanwhile, grind the fennel seeds with the salt. Add this to the garlic with the tomato paste, anise liqueur, boxed tomatoes, fresh tomatoes and fennel, with the liquid from the clams and 4 cups water. Cover and bring to a boil over high heat. Lower the heat and simmer for 25 minutes.
With an immersion blender, roughly puree the liquid in the pan, (without taking the pan off the stove) or puree it in a food processor and return it to the casserole. Taste for seasoning. Add saffron, cayenne, and orange zest and simmer another 5 minutes. Add salt, pepper, and cayenne to taste.
To serve, bring the soup base to a simmer, add the fish. Lower the heat and cook the fish gently just until tender, 6 to 8 minutes. Add the clams and cover for 1 minute. Serve in warm bowls with aioli.
---
Aioli
Ingredients
2 garlic cloves, peeled
1/2 tsp. coarse salt
1 large egg yolks, at room temp.
1 cup extra virgin olive oil
Directions
To make the Ailoli, put the garlic and salt in a mortar and mash together with a pestle to form as smooth a paste as possible. Mix in the egg yolks. Continue stirring and gradually ad just a few drops of the oil. Whisk until thoroughly incorporated. Do not add too much oil in the beginning, or the mixture will not emulsify. As soon as the mixture begins to thicken, add the remaining oil in a slow, steady stream, whisking constantly. Taste for seasoning.
(Recipe adapted from Patricia Wells AT HOME IN PROVENCE.)
Serves 4 to 6.