This recipe for Raspberry Baked Alaska can be made quickly and is quite fun — here my friend Dean Pritchard from Dallas is getting a private cooking lesson from Tante Marie!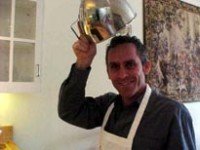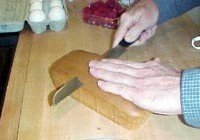 Ingredients
1 Sara Lee Poundcake
1/4 cup Framboise (or Kirsch)
2 pints Haagen-Dazs raspberry sorbet
4 egg whites
a few grains of salt
1 cup sugar
1/2 pint fresh raspberries
a sprig of fresh mint
Directions
To prepare the dessert, cut the brown crust from the top and bottom of the poundcake. Cut the cake lengthwise into three layers. Lay two of the layers on a serving platter. (Save the third layer for another purpose.) Sprinkle the cake with the liqueur. Mound the sorbet in the center of the cake, leaving a half inch of cake around the perimeter. Smooth the sorbet.
To prepare the meringue, put the egg whites with the salt in the bowl of an electric mixer. Beat the egg whites with a wire whip until they are so stiff, you can hold the bowl over your head without the egg whites falling out. With the beater on high, add the sugar one tablespoon at a time, beating well after each addition. Stop beating as soon as all the sugar is incorporated. Spread this meringue over the sorbet, covering the 1/2-inch of cake, and make swirls all over the cake. Brown the meringue with a blow torch. Decorate the meringue with fresh raspberries and mint. The best is to serve the dessert as soon as it is browned. However, it can be put in the freezer until ready to serve.
Serves 8.