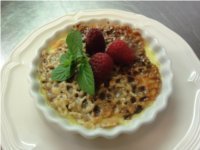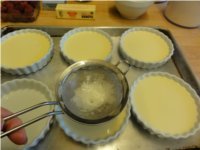 Ingredients
1 quart (4 cups) heavy cream
1 vanilla bean
8 egg yolks
1/2 cup sugar
salt
1/2 cup (1 stick) butter
1/2 cup sugar
2 Tbs. flour
1/2 tsp. salt
2 Tbs. milk (or heavy cream)
1/2 cup ground almonds
1 pint fresh raspberries
sprinkling of sugar
2/3 Tbs. framboise (or kirsch)
mint leaves
4 oz. semi-sweet chocolate
Directions
To make the custard, in a large saucepan, heat the cream with the vanilla bean until bubbles form around the edges of the pan.   In a large bowl, beat the egg yolks with the sugar until light.  Slowly stir in the hot cream with a pinch of salt.  Strain the mixture into eight shallow baking dishes.  Place dishes in a larger pan of hot water, cover with foil, and bake in a 325 degree oven for 45 minutes, or until barely set. Cool at room temp. Chill.
To make the cookies, in a saucepan, combine the butter, sugar, flour, salt, milk and ground almonds.  Cook over low heat, stirring constantly, until the butter melts. Drop this mixture by tablespoonfuls on cookie sheets lined with parchment, four to a sheet.  Bake in a preheated 375 oven for 6-8 minutes, or until the cookies are lightly browned around the edges.  Remove from the oven and allow to cool on a rack.  (The idea is to try to get the cookies the same size as the dishes so its best to bake one pan at a time.)
To prepare the raspberries, put them in a small bowl with a sprinkling of sugar and framboise or kirsh.
Meanwhile, melt the chocolate in the top of a double boiler. When the cookies are cooled, with a pastry brush, brush a layer of chocolate on the bottom of each cookie.
To serve, place a cookie, chocolate side down, on a baked custard, spoon in the center a large spoonful of raspberries and decorate with sprigs of mint.(This is my interpretation of a dessert developed by Anna for Tra Vigne in the Napa Valley).
Note: If you have extra cookies, after they are baked and still warm, wrap them with the smooth side in around a pencil. When they are cooled you can dip them in the remaining chocolate.
Serves 8.