Here is a quick and delicious supper dish — the bacon adds real flavor to the roast chicken. If you can find fresh shell beans, it would be similar to what I ate at Dine, a new fun restaurant in San Francisco. If not, you can use canned cannellini beans drained of the liquid or white beans that have been cooked in water until they are tender. Whatever kind of beans you use, you will love this dish.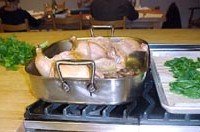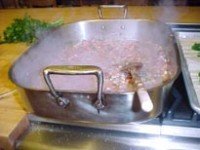 Ingredients
4 slices thick bacon
1 whole chicken
coarse salt and freshly ground black pepper
1 large onion, peeled and chopped
1 large tomato, seeded and chopped
1 cup cooked cannellini beans
1 bunch fresh spinach, washed and stemmed
2 Tbs. Italian parsley, leaves only
1 Tbs. fresh summer savory, if available
Directions
Lay the bacon on the bottom of a medium roasting pan sprinkle the chicken inside and out with the salt and pepper and place on top of the bacon. Surround the chicken with carrots and onions and place in a preheated 450 degree oven for about 1 hour. Toward the end of the cooking you can baste the bird once or twice with the cooking juices.
To tell whether the chicken is done, pierce the thick part of the thigh with a fork and the juices should run clear. Remove the pan from the oven, remove the chicken from the pan and place on a plate. Remove the bacon.
To the cooking juices, add the onion and cook, stirring, over medium high heat for about 5 minutes until the onion begins to brown. Add the tomato and the beans (drained and rinsed if canned) and simmer for another 5 minutes, stirring occasionally, until the beans are tender. Meanwhile, cut the chicken into four pieces, adding the juices in the plate to the cooking beans; and cut the bacon into 1/2 inch pieces.
Meanwhile, bring a medium-sized pot of water to the boil, add 1 tsp. salt, and toss in the spinach. When the spinach is half wilted, remove it in four separate mounds onto paper towels to drain. Keep warm.
When the beans are tender, taste them and add salt and pepper to taste. Add the bacon and fresh herbs and cook another minute or two. Spoon the beans onto 4 warmed dinner plates, place one quarter of the spinach in the middle of each plate, and cover with a piece of chicken.
(The idea for this recipe came from DINE in San Francisco.)
Serves 4