It is very French to roast a chicken whole and serve it on a bed of cooked lettuce, shallots, or mushrooms. In this recipe you toss cooked potatoes and Nicoise olives in the cooking juices and place the cut up chicken on top. It is absolutely delicious. If you are not sure how to cut up a chicken, use scissors and try it anyway — you'll get the hang of it after a few chickens.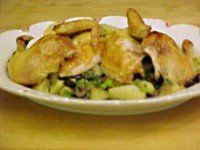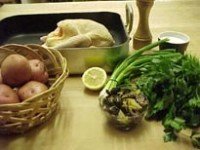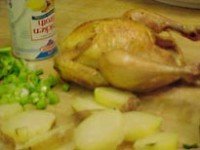 Ingredients
4 lb. roasting chicken
1/2 lemon
1 bunch scallions, equal amounts of white and green parts chopped
3/4 cup chicken stock
2 lb. new potatoes
coarse salt and freshly ground pepper
2/3 cups Italian parsley leaves, coarsely chopped
1/2 cup pitted Nicoise olives
Directions
Season the chicken inside and out with salt and pepper and rub with cut lemon. Place the chicken on a rack in a roasting pan in a preheated 400 degree oven and roast for approximately 50 minutes. You can baste the chicken every five minutes for the last 15 to 20 minutes of the cooking.
Place the potatoes in a large saucepan with cold water and a tablespoon of salt. Place over moderately high heat and bring to a boil. Boil gently until just tender when pierced with a fork. Drain immediately in a colander and shake to evaporate any excess moisture. Let cool. When cool slice the potatoes into 1/2-inch slices.
When the chicken is done, remove the pan from the oven and remove the chicken from the pan to let cool a little. When the juices in the pan have cooled, pour off all but two tablespoons of the fat, being sure to save the chicken juices. Place the roasting pan over a heat and add the scallions and cook 1 minute, add the chicken stock and boil up. Toss in the potatoes and let cook 2 to 3 minutes — without stirring too much. Add parsley, and olives with salt and pepper. Taste and adjust the seasoning. Place the potato mixture on a serving dish. Cut up the roasted chicken and place over the potatoes and serve.