Here is a healthful salad to start a meal in the winter.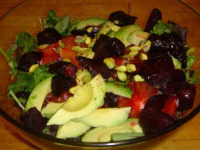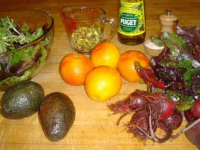 Ingredients
1 head red lettuce (or a small bag of mesclun)
4 blood oranges
1 bunch yellow or pink beets
2 avocados
1/2 cup shelled pistachios
coarse salt
1 1/2 Tbs. red wine vinegar
4 Tbs. good quality extra virgin olive oil
freshly ground black pepper
Directions
Wash and dry the lettuce and place it in a large bowl.
Cut the leaves and roots from the beets, rub them with olive oil and wrap each in foil. Bake in a 400 degree oven until soft when pierced with a fork, at least 1 hour.
Cut both ends off the oranges, lay them on a cut side, and with a knife remove the rind in 1-inch strips around the orange, cutting down to the flesh. Squeeze any excess juice from the cuttings over the lettuce, and cut the oranges into rounds.
Cut each avocado in half, and cut the flesh of each half into slices.
When the beets are cool enough to handle, remove the skins and cut the beets into wedges.
Arrange the blood orange slices, the avocado slices, and the beets over the lettuces. Sprinkle with pistachios.
When ready to serve, mix a scant half a teaspoon of salt in the bowl of a spoon with the vinegar. Toss this over the salad; then toss on the olive oil; and grind on pepper to taste. Toss gently so that all the ingredients are lightly coated with dressing. Arrange on individual salad plates.
Note: In this recipe I recommend using pale colored beets because the deep red beets I used when testing the recipe turns everything dark red.
(The inspiration for this recipe came from
INSALATA'S
in San Anselmo)
Serves 4 to 6.